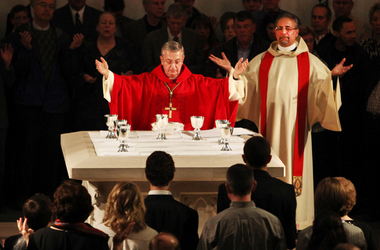 This doesn't happen very often, but it happened yesterday in Ohio:
The Rev. Robert Marrone, who broke away from the Catholic Diocese of Cleveland after Bishop Richard Lennon closed his downtown church in 2010, has been excommunicated, according to a statement issued by the diocese Tuesday.

Lennon said in the statement that Marrone violated terms of a leave of absence he had received from the diocese and that he refused to abandon a worship space he and his followers had set up outside the authority of the diocese.

"Father Marrone's recent actions have been in direct defiance of the church's teachings and authority," Lennon said.

Marrone could not be reached for comment.

Frank Titus of Lyndhurst, a member of Marrone's breakaway church said, "I'm certainly saddened by the bishop's actions. But I'm not surprised . . . this is a disappointing and troubling development."

Maronne and his congregation of more than 300 broke away from the diocese in August 2010, four months after Lennon closed their parish, St. Peter Catholic Church on Superior Avenue at East 17th Street.

The closing was part of a diocese-wide downsizing that saw the shuttering of 50 churches.

Despite warnings from Lennon suggesting their salvation was in jeopardy if they conducted worship services outside a sanctioned church, Marrone and his congregation set up their own sanctuary in a century-old commercial building on Euclid Avenue at East 71st Street.

They have continued to celebrate Mass every Sunday since their self-imposed exhile.

Lennon said in his statement he has made numerous attempts to get Marrone to reconcile with the church, but the priest has ignored him.