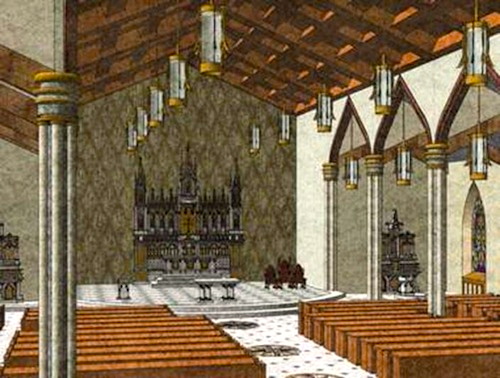 A Brooklyn landmark is about to get an extreme—and much-needed—makeover.
As a local website described it:
A historic church in Windsor Terrace, the Holy Name of Jesus Church at 245 Prospect Park West, is receiving a big historical restoration. And as a tipster puts it, "This isn't just any church overhaul: Holy Name was architecturally desecrated in the 1970s, stripped of its beautiful original interiors, painted Pepto-Bismol PINK (it still is), and outfitted like a cross between a fern bar and the transporter room of the USS Enterprise." The parish is now ready for a renovation and is focusing on a marble altarpiece by James Renwick as the focal point of the project. (Check out pictures of the altarpiece right here.) The church released a few images of proposed designs, although the final design will not be determined until the church knows how much money it can raise. A spokeswoman there says that if all goes according to plan they hope to finish the renovation in time for Christmas.
Trust and believe: the renovation undertaken over 30 years ago was, in a word, awful.  To get a sense of what it is, and what it will be, check out the nicely done video below.   The parish, meantime, has put together a smartly-executed Facebook page.  There's more about the restoration on the parish website.  (And yeah: that image below is really what the sanctuary looks like today.)