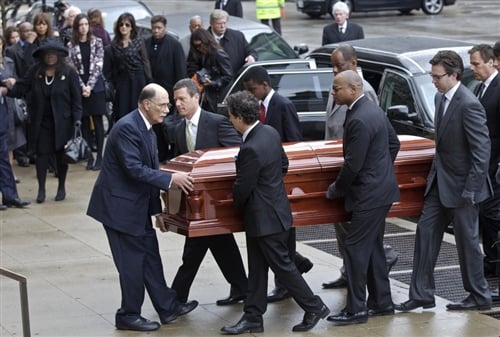 As a standing ovation finally quieted inside Holy Name Cathedral, Chaz Ebert paid the last words of tribute to her husband, famed movie critic Roger Ebert.

"He had a heart big enough to accept and love all," Chaz Ebert said, telling the crowd of fans and friends under the vaulted ceilings of the church that "Roger would want me to thank you. He would have loved this. He would have loved the majesty of it."

"My heart is so full," she continued. "This morning I didn't want to get out of bed. I wanted to pretend this wasn't the day of his funeral. And then it felt like he was there with me."

"One of the things that I loved about Roger — besides the fact that he had the biggest heart I've ever seen — is that he really was a soldier for social justice," she said. "And it didn't matter to him your race, creed, color, level of ability, sexual orientation."

Chaz Ebert drew laughs when she referred to the black hat and veil she wore. "He loved this hat. That's why I wore it today."

…Ebert, who was the first to win a Pulitzer Prize for film criticism and worked for the Chicago Sun-Times for more than 45 years, died on Thursday at age 70. His death came just two days after he publicly announced that cancer had returned and that he would be taking "a leave of presence."

…The Rev. Michael Pfleger gave the last blessing over Ebert's casket. "May the angels lead you to paradise," he said.

Then he spoke directly to Ebert's wife. "I know as Roger ascends into heaven, the balconies of heaven are filled with angels saying, 'Thumbs up,' " Pfleger said.
Maybe I'm being picky, but a guiding principle for Catholic funeral oratory is: don't tell people that the deceased is in heaven. You don't know. And no matter how deserving the person might seem to be, there are doubtless some who will argue otherwise. (I once heard of a woman at a funeral for her abusive father who was understandably outraged and distraught to hear the homilist describe him as "watching over us from heaven now." If memory serves, she left the church not long after.)
Funeral preachers: offer reassurance and hope and consolation. But do not promise canonization. Pfleger seems to have disregarded that concept.