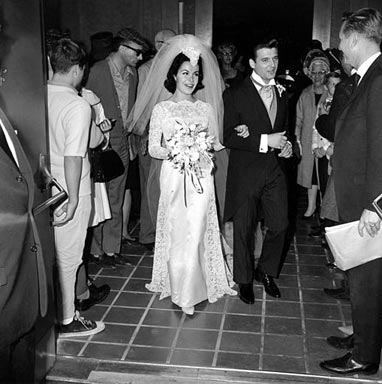 Sad news, with word that the most famous Mouseketeer of all died today after a long battle with MS.
The photo here shows her with first husband Jack Gilardi, leaving St. Cyril's Roman Catholic Church in Encino, Calif., on Jan. 9, 1965, following their wedding ceremony.
Annette spoke of her faith some years back, and how it helped her fight the disease that eventually took her life:
When I was young, I never imagined something like this would happen. Now people say to me, "Oh, you're so strong. It's just great the way you're taking it." They don't see my down side ever. I do have times, when I'm all alone and the house is very quiet, when I cry, and sure, I think, "Why me? Why me?" But I believe everything happens for a reason, and I know now that my mission is to help others raise funds for MS.

You know what my fantasy is? To appear before Congress to talk about MS. I would say in a public statement: "To all of you out there who have ever watched me on The Mickey Mouse Club, send in one dollar, please, in my name." The MS people would have millions.

I'm a Catholic, and I've always been a religious person, and having MS reminds me that there's a higher power up there who knows what HE's doing. MS has brought my family closer together, if that's possible.
Eternal rest grant unto her, O Lord, and let perpetual light shine upon her…