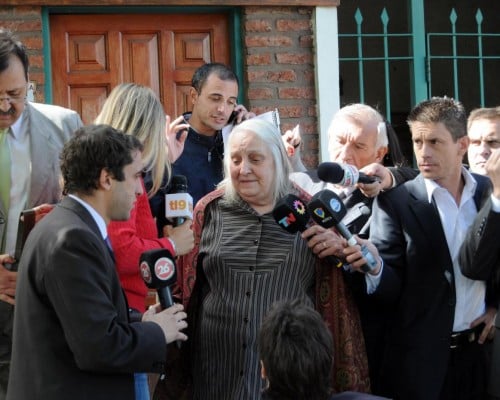 NCR's John Allen has arrived in Argentina, and wasted no time tracking down the most important interview subject in the country: the pope's sister.
Though there aren't yet hard numbers to back it up, it's a good bet that the single most interviewed human being on the planet since March 13, 2013, has been a simple 64-year-old housewife in the Argentine city of Ituzaingó, about an hour outside Buenos Aires.

The woman is Maria Elena Bergoglio, and her older brother Jorge today is known to the world as Pope Francis. They're the last surviving siblings of five children, and since the moment Francis stepped out onto the balcony overlooking St. Peter's Square, Maria Elena become the go-to point of reference for insight on the new pope.

Listening to her, she seems cut from the same cloth as her now-famous sibling: Humble and unpretentious, and also completely unafraid to speak her mind.

For instance, when stories began to make the rounds about Francis having become a priest only because a young love rejected his marriage proposal, Maria Elena was there to bat it down. She insisted that her brother was only a kid at the time, and the idea of getting married was never serious. More ominously, when critics suggested that her brother had been complicit in Argentina's military junta, Maria Elena testily pointed out that her family emigrated from Italy because their father was opposed to fascism … the clear suggestion being that Jorge Mario Bergoglio would never betray his father's memory by cozying up to dictators.

Over the last three weeks, Maria Elena's modest one-story home on an obscure street has become a sort of impromptu journalistic pilgrimage destination. She says that from the morning of March 14 all the way through Holy Week, her phone started ringing at 5 am and people started knocking on her door at 6, every day, until well after dark every night.

One might think that by this stage Maria Elena is already talked out, but in an hour-long interview with NCR this morning, she managed to add several new points to the record:

She confessed that heading into the conclave, she was actually cheering for another candidate to be the first Latin American pope: Cardinal Odilo Pedro Scherer of Brazil, whom she said she always admired because he seemed to be on the side of the poor. Why him and not her brother? "Because I wanted him back!"
She acknowledged that before I asked, it had never occurred to her to call Monsignor Georg Ratzinger, the only other living sibling of a pope, but she said she'd like to do it – not so much to compare notes, but to express admiration for Benedict's courage as well as relief that it was Georg's brother, not hers, who had to follow John Paul II.
She said that since he's become pope, her usually shy and reserved brother has seemed "better able to express his feelings" in public, which she attributes to the assistance of the Holy Spirit.
For all those wondering if her brother is strong enough to really get control of the Vatican, she says he's plenty tough enough: "Personally he's got a strong character, and he's also got a deep belief in his convictions that's unbreakable," she said.

On other matters, Maria Elena discussed the two phone conversations she's had with her brother since he became pope, her hopes for him to visit to Argentina (and to give her two minutes for a hug), and outlined the kind of people she believes he'll bring into key positions.