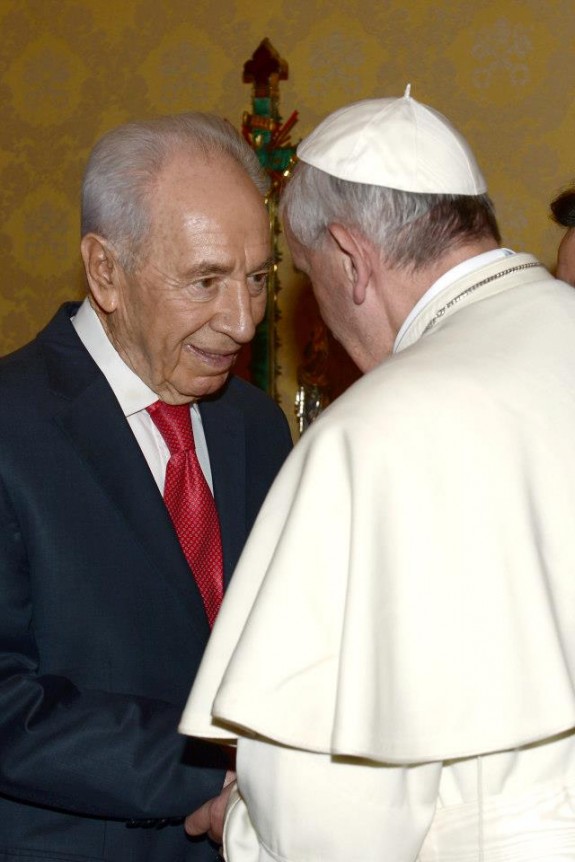 Israeli President Shimon Peres officially invited Pope Francis to Israel and left their meeting at the Vatican telling the pope, "I am expecting you in Jerusalem and not just me, but all the people of Israel."

Jesuit Father Federico Lombardi, Vatican spokesman, told reporters, "The pope would be happy to go to the Holy Land," although there are no concrete plans for the trip.

The Vatican said that during their half-hour private conversation April 30, the pope and the president discussed "the political and social situation in the Middle East where more than a few conflicts persist."

Pope Francis and Peres expressed hopes for a resumption of negotiations between Israelis and Palestinians so that "with courageous decisions and availability on both sides, as well as with the support of the international community, an agreement that respects the legitimate aspirations of the two peoples can be reached," the statement said.

A resolution of the Israeli-Palestinian conflict would contribute to peace and stability throughout the region, the Vatican said.

The two leaders also spoke about "the conflict that plagues Syria" and the need for a political solution in Syria that favors reconciliation and dialogue.