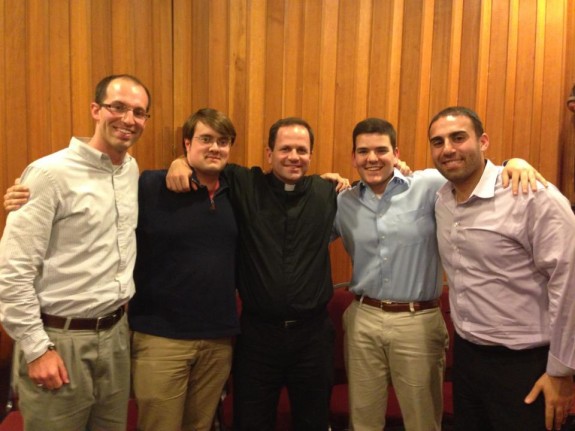 You probably remember the controversy surrounding this chaplain at George Washington University. Here's something else you should know about him, from the National Catholic Register:
Father Greg Shaffer, the Catholic chaplain at George Washington University, learned early that a good pastor can defy the odds and lead the young to embrace a priestly vocation.

Growing up in Bethesda, Md., Father Shaffer was inspired by the example of Msgr. Thomas Wells, a charismatic figure in the archdiocese who possessed a deep and infectious love for the Eucharist.

Msgr. Wells brought many young men to the priesthood before he was murdered during a 2000 robbery at his Maryland parish; he was 56 years old.

Now, 13 years later, that beloved pastor remains a source of inspiration for Father Shaffer, who has revealed a knack for fostering vocations at a secular university better known for jump-starting careers in government.

Since the priest's arrival four years ago, Sunday Mass attendance at the campus Newman Center has increased from 100 to about 400 people — and, this year, four men will enter the seminary.

Ask the chaplain what he remembers best about his pastor, and he'll recall that every time Msgr. Wells consecrated the Host, his demeanor fully conveyed the presence of Christ. And during all of his interactions with parishioners, he radiated joy and thus attracted others eager to investigate the vocation that made this man so happy.

"When Msgr. Wells consecrated the Host, he spoke directly to me, 'Greg, this is my body.' That really changed my life. I dedicated my priesthood to the Eucharist," said Father Shaffer, who lost his own father when he was young and turned to the pastor for guidance.

Now, as a new generation of young men ponders their future path in the world, Father Shaffer shares that same palpable sense of joy and mystery. And, so far, his service is bearing fruit: Besides the four men who will enter the seminary this year, including a Fellowship of Catholic University Students missionary, another 10 students have joined a Melchizedek Project group designed to help them begin the discernment process. Father Shaffer established the new program at the chaplaincy, which uses Father Brett Brannen's To Save a Thousand Souls: A Guide for Discerning a Vocation to Diocesan Priesthood, to provide a framework for group reflection and formation.
Yeah, clearly this man is a menace who must be stopped.
Read the rest. And keep him in your prayers.