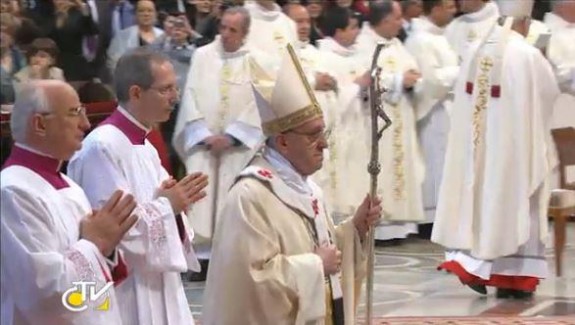 Cardinal Oscar Andres Rodriguez Maradiaga of Honduras said he was backing more posts for women after the Pope named him this month to lead a task force of eight cardinals from around the world to reform the Roman Curia, an alleged hotbed of intrigue, infighting and corruption.
The cardinal's comments, made to The Sunday Times, were backed by Vatican spokesman Father Federico Lombardi on Sunday.

"It is a natural step – there is a move towards putting more women in key roles where they are qualified," he said. ??

In its bid to address women's issues, the Vatican's daily newspaper L'Osservatore Romano has launched a women's supplement.
This was a message about the importance of the role of women in the Church," said Carlo Marroni, a Vatican expert at Italian daily Il Sole 24 Ore. "That said, the question still gets handled cautiously as it touches on the issue of ordination for women."

Women have taken on a number of key roles at the Vatican, including Sister Nicla Spezzati, the undersecretary of the Congregation for Institutes of Consecrated Life and Flaminia Giovanelli, the undersecretary, at the Pontifical Council for Justice and Peace.

St Peter's is run by a woman, Maria Cristina Carlo-Stella, who is the head of the Fabbrica di San Pietro, the Vatican office in charge of the basilica.

"But that is still very few," said Marco Politi, a Vatican watcher at Italian daily Il Fatto Quotidiano. "Look at Germany and the US, where women have many key positions in the dioceses."
In his general audience on April 3, the Pope noted how women were the first witnesses of the Resurrection, adding that, "The Apostles and disciples find it harder to believe in the Risen Christ, not the women however!"