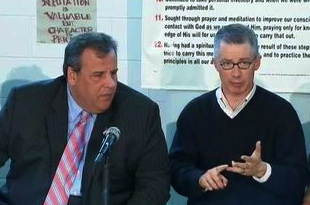 At a time when politics has been reduced to a bloody contact sport, this appearance of New Jersey Governor Chris Christie and his predecessor Jim McGreevey — who resigned after admitting a homosexual affair—is both remarkable and unexpectedly moving. It speaks to what politics should be, not what it is.
Seemingly unlikely but evidently genuine, the alliance between current and former NJ governors Chris Christie and Jim McGreevey is more about second chances of the personal, than political, sort.

Republican Christie, who struggles with his weight, and Democrat McGreevey, whose struggle with homosexuality (not to mention, egregiously bad judgment) led to his resignation in 2004, have found common ground about the need to expand treatment for addiction.

McGreevey has a prison ministry serving female inmates; Christie became interested in treatment programs as a Morris County freeholder in the 1990s, and has sat on a private treatment facility's board. Both see addiction as a disease, which won't help Christie secure the far-right support he supposedly needs to be a viable GOP presidential candidate.

But there he was Wednesday, sitting next to McGreevey in front of a display of the 12 Steps of Alcoholics Anonymous, inside the women's section of the Hudson County Correctional Facility in Kearny. The two listened as inmates talked about the battle to recover from addiction.

"Yesterday informs who we've been but it doesn't inform who we can be," Christie said.

Added McGreevey, "I believe Democrats and Republicans meet in a place like this and understand the importance of healing souls."
Watch the video below. No matter what your political affiliation, you can't watch this without being impressed.
UPDATE: As usual, The Anchoress nails it: 
We see it here, with Christie and McGreevey, two men who could not be more different in comportment, outlook or expression, but who are managing to work together for something better, and bigger, than mere political gain — because it too is about embracing the wholeness of humanity both personally and beyond. This is a joint-interview full of Mercy, but also yes, Justice. Both men are managing to reach beyond the pointless, increasingly toxic partisan schtick, and beyond the labels, to do the right thing, but neither is giving up who he is while doing so. I think that's really made clear when Christie shares that McGreevey will advise him and "some advise I accept, some I reject…" but as adults capable of respect, acceptance or rejection of an idea, or an opinion, does not mean enmity must follow.