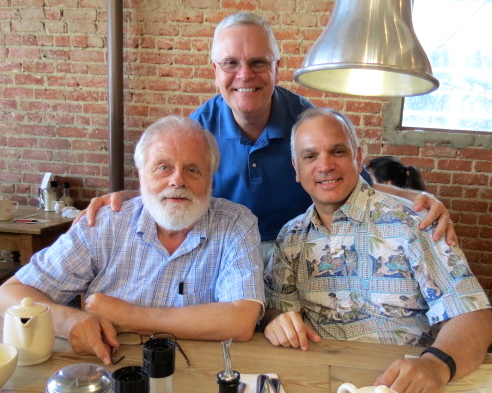 Well, there are three of us.
Pictured: Your Humble Blogger, wrapping up his West Coast Odyssey with a visit to the legendary Church of the Good Shepherd in Beverly Hills, with two wonderful clergymen serving that parish, Msgr. Thomas Welbers (left, doing his best impression of Sir Richard Attenborough) and Deacon Eric Stoltz (right).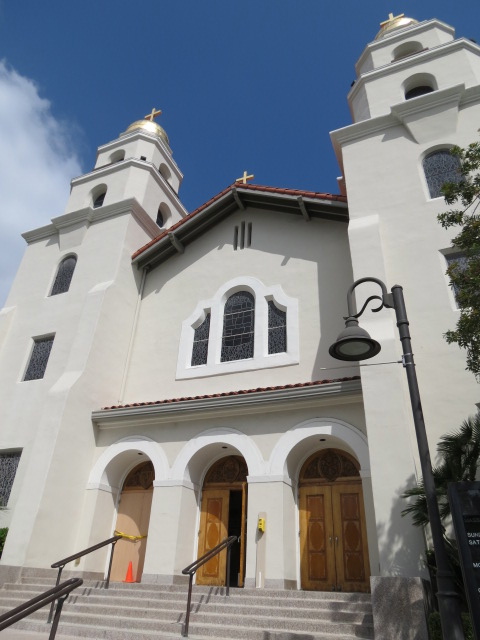 The parish is something of a legend in Hollywood—at one time, dubbed "Our Lady of the Cadillacs" because of the starry and well-heeled figures who populated the pews. It is the site where Elizabeth Taylor was married and from where Merv Griffin was buried. Rudolph Valentino and Bing Crosby were worshippers, too.  It's also where Gary Cooper converted.
I first paid the church a visit back in 1996, on my first trip to Los Angeles. Our hotel was a short walk away, so we attended the vigil Mass on a Saturday night. Glancing around, I thought I saw a familiar figure standing in the back. I took a closer look when I returned from communion. I swear: it was Kato Kaelin.
Anyway: it was a pleasure to meet Fr. Tom and Deacon Eric and break bread after.  In his homily, the good monsignor spoke compellingly and credibly about the Trinity—no small feat! I couldn't help but be impressed when he mentioned at the beginning of Mass a special collection for Oklahoma, then opened his wallet, took out a bill and stuffed it in an envelope so he wouldn't forget.
Thanks, gentlemen, for the hospitality and a memorable Trinity Sunday in your beautiful church!
As a footnote:  check out the parish's excellent website (designed and maintained by Deacon Eric) for a sterling example of what a good parish website is supposed to be.