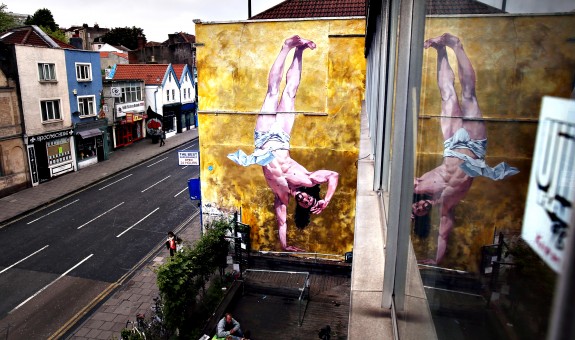 A new 30-ft piece of street art depicting Jesus breakdancing has attracted praise – from the Catholic church.

A spokesperson for the Diocese of Clifton said the new piece should "get people talking about religion" in Bristol.

The giant mural, painted next to The Canteen – a Stokes Croft diner part-owned by Bristol mayor George Ferguson was unveiled yesterday.

It sits directly opposite Banksy's famous Mild Mild West piece, also on Stokes Croft.

Clifton Youth Ministry coordinator Dave Wheat said the mural was "a very interesting piece of artwork that will obviously grab people's attention", adding: "It may especially have an appeal to the younger members of our church, and if it gets people talking about religion in a city that is proud of its multi-faith agenda and tolerance, that has to be a good thing.

"It helps to bring Christ out of our multi-ethnic Church and into the lives of religious and non-religious people, as Pope Francis urges us to do."

The piece was painted by London street artist Cosmo Sarson, who won a competition held by The Canteen.