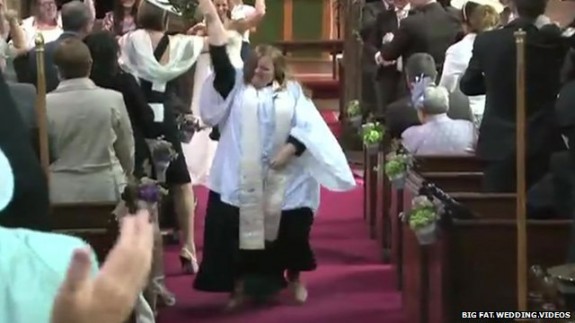 You have to see this to believe it.
I think it's safe to say that wedding flash mobs have now officially jumped the shark.
And it seems it was the minister's idea.  From HuffPo: 
One English couple didn't wait until their wedding reception to start dancing — they got their groove on in the middle of the ceremony!

Gary and Tracy Richardson had just shared their first kiss as husband and wife when the song "Everybody Dance Now" suddenly blasted through the speakers at St. Mary's and St. Martin's Church in Blyth, England. Then, officiant Kate Bottley led the newlyweds, wedding party and many of the wedding guests in a choreographed flash mob that also included the classic disco song, "Celebration."

Gary posted a video of the flash mob to YouTube on Friday (the wedding was held earlier this month), and in the video's description he wrote that the flash mob was Bottley's idea. They rehearsed the routine along with 28 friends and family members in the weeks leading up to the ceremony.

Tracy told the Daily Mirror Sunday that though Bottley only "halfheartedly" suggested staging a flash mob, she and Gary didn't hesitate to say "yes."
See it for yourself below.