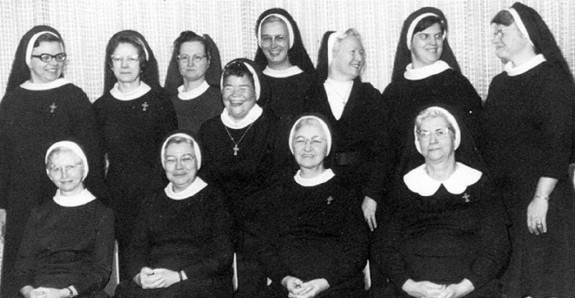 Fr. Dwight Longenecker has invited Deacon Richard Ballard as a guest blogger this week over at Standing on my Head.  He writes of a chance encounter with a habited nun at a hospital when he was seven-years-old — a meeting that may well have changed his life:
With a variety of comic books in hand, I was ensconced in the corner of the lobby to idle away the time awaiting the return of my family. It was then that I saw her: Sister Mary Regina Harriss, RSM. She was a religious, a Sister of Mercy, and I was astonished.

To comprehend why seeing a sister would have elicited such wonder, it is helpful to understand that this happened just at the close of Vatican Council II. The upheaval that was to shake the Catholic Church during the years immediately following had not yet achieved its momentum. The Sisters of Mercy had not yet abandoned their traditional habit. Sister Mary Regina still looked like what a person of that time might have expected a sister to look like.

Rounding the corner, and coming to stand in front of me, was this tall woman of patrician bearing and indeterminate age. She was costumed in a long, black dress with long black sleeves. Her dress fell in a simple straight line from her neck to below her knees, reaching almost to her ankles. She wore a long, black, flowing veil that seemed to sail behind her as she walked. Under the veil she wore a white cap that outlined her head and face, and let just a bit of hair from the front of her brow show through. Her neck and the top of her shoulders were similarly outlined with a corresponding white collar. She had a thin waist girdled about with a leather belt. A long, ebony rosary hung at her side from this cincture, with the beads making a gentle clicking sound as she glided along. Here this woman, of what exotic origin I knew not, had positioned herself mere inches from me.

My mouth must have been hanging open, and no doubt I was scared stiff, possibly expecting something like the wrath of God to shower down upon me from this figure whom, I imagined, might take great exception to having a child with comic books in her lobby. That was when she beamed a very bright and friendly smile, and asked me my name. When I summoned the courage to tell her, she sat down beside me and asked what comic book I was reading. After a discussion of the merits of that particular edition of Superman, she asked why I was sitting in the lobby. When I told her, she seemed very concerned about my grandfather and told me that she would visit him later that day. She also said that she would like to pray for him, and she did, right then and there!

I couldn't possibly tell you the content of her prayer, but the spirit of that prayer remains with me still. It was kind, and loving, and full of hope and care. It expressed what I would now call abandonment to the Divine Mercy. After her intercession, Sister Mary Regina rose and told me that she hoped she would see me again. And then she was gone, gliding down the hallway and out of sight. This was the image that first represented to me the Catholic Church.