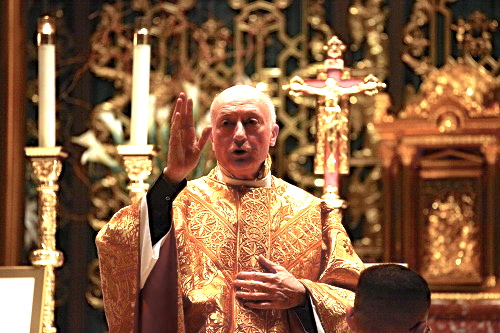 The well-known priest—an Episcopal convert, staunch traditionalist and a familiar fixture on EWTN—is leaving the parish he's pastored for nearly a dozen years.
Rutler broke the news in his parish bulletin:
Writing a weekly message to you is a challenge even under ordinary circumstances, because the cruel regimen of the printer requires that it be done with 480 words or fewer. Usually I spin it off on a Monday morning, which is not the most inspiring time in the week for most people. In the twelve years that I have been pastor of the Church of Our Saviour, I have written many hundreds of columns, and of them all, none has been more daunting for me than this one. In 480 words I must explain that I shall be moving on to a new position, albeit for the same Saviour who has been so patient with me as a poor priest of His since Cardinal Cooke ordained me in the Lady Chapel of St. Patrick's Cathedral on September 8, 1981. I promised obedience to the Cardinal and to his successors, and I have done that and continue to do that and shall do that until all my earthly shepherds turn me over to the Chief Shepherd, whom I hope will spare the rod and comfort me more with his staff.

I was gratified that so many wanted me to stay here, and Cardinal Dolan was not unaware of that when he decided that he has other tasks for me to undertake. The Church is vaster than any particular parish, beloved as ours is for many far and wide, and while I am moving to the far other end of our island on the West Side, it is not like going to the moon. I am to be pastor of St. Michael's Church near Pennsylvania Station and administrator of Holy Innocents Church in the Garment District. St. Michael's is on the southern perimeter of what New Yorkers long ago came to call "Hell's Kitchen," but that is not the Hell from whose fires we pray to be saved. It is actually a quickly changing neighborhood, and I shall have some responsibility for extending the work of the Church to meet the needs of the residences and new businesses that are expanding there.

I have until August 1 to say in various ways what I cannot say in a few lines of print. Cardinal Egan officially appointed me your pastor in the tumultuous week following the attacks on September 11, 2001. Our city has undergone unimaginable changes since then, and I think it may be said that our parish has also changed greatly. I am thankful for all the blessings we have received here and for all those who have been a blessing to me. These twelve years have been a lifetime counted one way, but counted another way they have been "short as the watch that ends the night." Instead of squeezing all my thoughts into 480 words, I shall uncharacteristically refrain from words and let my prayers thank God for all He has done.
The parish website has Rutler's biography:
Born in 1945 and reared in the Episcopal tradition in New Jersey and New York, Father Rutler was an Episcopal priest for nine years, and the youngest Episcopal rector in the country when he headed the Church of the Good Shepherd in Rosemont, Pennsylvania. He was received into the Catholic Church in 1979 and was sent to the North American College in Rome for seminary studies. His parents, Adolphe and Dorothy, both now deceased, were received into the Church in 1982 by Cardinal Cooke. Father Rutler graduated from Dartmouth, where he was a Rufus Choate Scholar, and took advanced degrees at the Johns Hopkins University and the General Theological Seminary. He holds several degrees from the Gregorian and Angelicum Universities in Rome, including the Pontifical Doctorate in Sacred Theology, and studied at the Institut Catholique in Paris. In England, in 1988, the University of Oxford awarded him the degree Master of Studies. From 1987 to 1988 he was regular preacher to the students, faculty, and townspeople of Oxford. Thomas More College and Christendom College awarded himhonorary doctorates, and in 1996 Governor George W. Bush made him an Honorary Texan. For his help at the World Trade Center on September 11, 2001 he was honored by the City Council of New York and was made an honorary firefighter by the City of Dallas. He is a knight of the Equestrian Order of the Holy Sepulchre, and chaplain of the St. Andrew's Society of the State of New York, the Robert Burns Society of the City of New York, and the West Point Society of New York.
His parish is a landmark in midtown Manhattan; I served Mass there for a meeting of Legatus a few years back and got to chat with Rutler in the sacristy beforehand. The church is something to behold. Visit the Church of Our Savior website for a video tour.