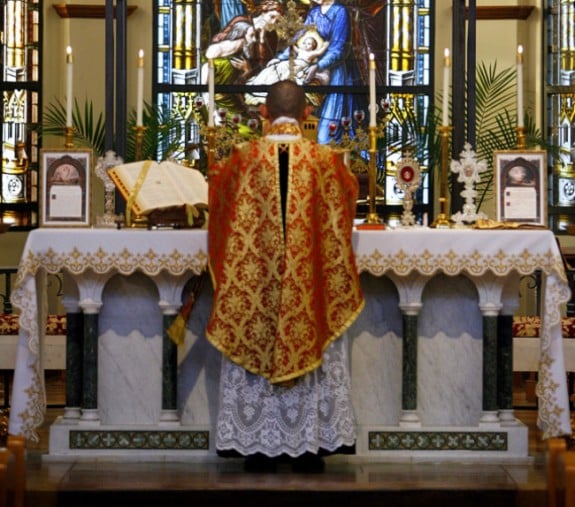 It involves the celebration of the Mass in the Extraordinary Form. And what Francis has decided to do, according to one veteran Vatican watcher, marks an important change—a move to restrict celebration of that form of the Mass within a particular religious order.
From Sandro Magister:
The decree bears the date of July 11, 2013, the protocol number 52741/2012, and the signatures of the prefect of the congregation, Cardinal Joao Braz de Aviz, a focolarino, and of the secretary of the same congregation, Archbishop José Rodríguez Carballo, a Franciscan…

…The decree installs an apostolic commissioner – in the person of the Capuchin Fidenzio Volpi – at the head of all the communities of the congregation of the Franciscan Friars of the Immaculate.

And this in itself is cause for astonishment. Because the Franciscans of the Immaculate are one of the most flourishing religious communities born in the Catholic Church in recent decades, with male and female branches, with many young vocations, spread over several continents and with a mission in Argentina as well.

They want to be faithful to tradition, in full respect for the magisterium of the Church. So much so that in their communities they celebrate Masses both in the ancient rite and in the modern rite, as moreover do hundreds of religious communities around the world – the Benedictines of Norcia, to give just one example – applying the spirit and the letter of the motu proprio "Summorum Pontificum" of Benedict XVI.

But precisely this was contested by a core group of internal dissidents, who appealed to the Vatican authorities complaining of the excessive propensity of their congregation to celebrate the Mass in the ancient rite, with the effect of creating exclusion and opposition within the communities, of undermining internal unity and, worse, of weakening the more general "sentire cum Ecclesia."

The Vatican authorities responded by sending an apostolic visitor one year ago. And now comes the appointment of the commissioner.

But what is most astonishing are the last five lines of the decree of July 11:

"In addition to the above, the Holy Father Francis has directed that every religious of the congregation of the Franciscan Friars of the Immaculate is required to celebrate the liturgy according to the ordinary rite and that, if the occasion should arise, the use of the extraordinary form (Vetus Ordo) must be explicitly authorized by the competent authorities, for every religious and/or community that makes the request."
Read the rest. It explains in more detail the context and background and why this move may be significant.