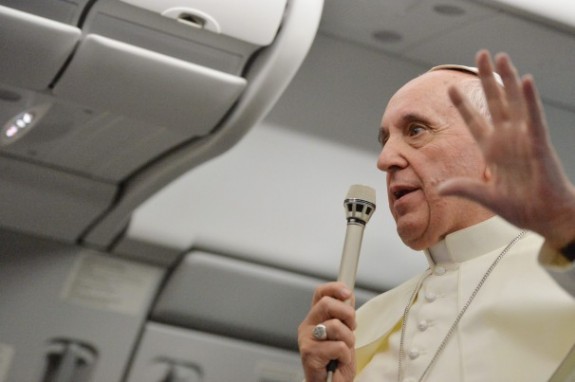 The interview that will be making headlines around the Catholic media this morning, from John Allen in NCR:
On the way to Rio de Janeiro on July 22, Pope Francis told reporters that "I don't give interviews." But at the end of his seven-day tour de force in Brazil, not only did the pope give an interview, it was a whopper.

He took questions from reporters traveling aboard the papal plane for a full hour and twenty-one minutes, with no filters or limits and nothing off the record.Francis stood for the entire time, answering without notes, and never refusing to take a question. The final query was a especially delicate one, about charges of homosexual conduct against his recently appointed delegate to reform the Vatican bank, and not only did Francis answer but he actually thanked reporters for the question.

On background, officials said the decision to hold the news conference aboard the 12-hour flight from Rio de Janeiro to Rome was a personal decision by Francis, and that aides at one point had actually counseled him against it.

Not since John Paul II, prior to the debilitating effects of his illness, has a pope engaged in such a free-wheeling and spontaneous exchange with the press. Francis spoke in Italian and Spanish, the languages in which his comfort level is the greatest.

Among other points, Pope Francis:

When asked about the Vatican's alleged "gay lobby," replied that while a lobby might be an issue, he doesn't have any problem with the inclination to homosexuality itself: "Who am I to judge them if they're seeking the Lord in good faith?" he said.
Conceded he doesn't yet know what to do about the Vatican bank – saying it could become an ethical bank, an assistance fund for good causes, or be closed altogether.
Said he hasn't run into significant resistance to reform inside the Vatican, and joked that if there really is a "gay lobby" he hasn't yet seen it stamped on anyone's ID cards.
Argued for the importance of women in the church, yet said that John Paul II "definitively … closed the door" to women priests. He called for a deeper "theology of women" beyond disputed questions such as whether they can be lectors at Mass or head Vatican agencies such as Caritas Internationalis.
Said a preliminary investigation had been conducted regarding charges of immoral conduct against his hand-picked prelate for the Vatican bank, Italian Monsignor Battista Ricca, which "found nothing".
Said of Monsignor Nunzio Scarano, the former Vatican accountant who was recently arrested for alleged involvement in a plot to smuggle $26 million in cash into Italy, that he's not in jail "because he resembles the Blessed Imelda" – an Argentinian expression meaning that he doesn't seem to be any saint.
Suggested that the Synod of Bishops may be in for a shake-up in the direction of both greater efficiency and greater collegiality.
And the Washington Post, via the Associated Press, has this angle:
His predecessor, Pope Benedict XVI, signed a document in 2005 that said men with deep-rooted homosexual tendencies should not be priests. Francis was much more conciliatory, saying gay clergymen should be forgiven and their sins forgotten.

Francis' remarks came Monday during a plane journey back to the Vatican from his first foreign trip in Brazil.

He was funny and candid during his first news conference that lasted almost an hour and a half. He didn't dodge a single question, even thanking the journalist who raised allegations reported by an Italian newsmagazine that one of his trusted monsignors was involved in a scandalous gay tryst.

Francis said he investigated and found nothing to back up the allegations….

…But he took journalists to task for reporting on the matter, saying the allegations concerned matters of sin, not crimes like sexually abusing children.

And when someone sins and confesses, he said, God not only forgives but forgets.

"We don't have the right to not forget," he said.
Elizabeth Scalia has some welcome context, as she hears heads exploding over all this:
Forgiveness, and the recognition that people can sin and then repent and live faithful lives with the help of God's grace, is a basic tenet of Christianity. When a friend of mine suggested that "even if" the priest in question had repented, "he should not be in such a position of prominence. It gives scandal!" I disagreed. To proclaim a Gospel of Mercy and then only permit a man or woman who has converted their lives in Christ to assume lesser or menial positions is to say we do not trust our own teaching — Christ's own teaching — about mercy. The pope is correct; by that way of thinking, Peter would never have been given the keys to the kingdom. We are the church of Saint Mary Magdalene and Saint Paul; sinners who were first forgiven and then trusted with prominence.

I understand some folks' concerns that perhaps Francis is too heavy on the mercy and too light on the justice side of things — and certainly the cross itself teaches us that both must be held in balance. But this is still a pretty fresh papacy. The sense I'm getting is that Francis means to scrape some long-attached barnacles from the Barque of Peter, so we can see what the deeper hues of Justice and Mercy look like; he's readying it to travel some rough, challenging waters.

I wonder who will jump ship? Last night I debated a woman with her skirt over her face about our bishops having a little fun, in Rio. She thought it was scandalous and silly and unbefitting the church. I thought our bishops — after a terrible decade — were finally being allowed to exhale!
UPDATE: Jimmy Akin unpacks some of what Francis said about homosexuality, and discovers it's not as radical as some may think.
Some media have portrayed the pope as saying he would not judge priests for their sexual orientation, which would seem to call into question the Vatican's 2005 document that ruled out ordination for men with "deep-seated homosexual tendencies." Based on the pope's actual words, I think that's a stretch.

In fact, what the pope said – as he himself pointed out – is essentially affirmed in the Catechism of the Catholic Church, which states that gay men and women "must be accepted with respect, compassion, and sensitivity."

What the pope didn't discuss with journalists was the catechism's line that the homosexual inclination is itself "disordered." That was the basis for the Vatican's ban on gay priests. Francis didn't disown that particular teaching, he just didn't mention it.

It's an important shift in emphasis. And Pope Francis is clearly trying to reach out to those who have been alienated by the church's statements about homosexuality in recent years.

Although comparison between Pope Francis and Pope Benedict is not always fair, I think in this case it's instructive. When asked about the church's teaching on homosexuality in a book-length interview in 2010, Pope Benedict responded that gay men and women deserve respect, but added:

"This does not mean that homosexuality thereby becomes morally right. Rather, it remains contrary to the essence of what God originally willed."

Pope Benedict went on to say that homosexuality among the clergy was "one of the miseries of the church" and that "homosexuality is incompatible with the priestly vocation."

"Who am I to judge?" sends a very different message.