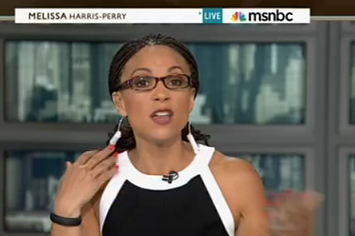 On her MSNBC show Sunday, Melissa Harris-Perry introduced a new type of jewelry inspired by the recent protests at the Texas Capitol.

Tampon earrings.

"My producer Lorena made for me, last week, some tampon earrings," Harris-Perry said as she inserted them into her pierced ears.

"Because, of course, you'll remember the Texas state legislature said you could not bring tampons in when they were going, these women, to in fact stand up for their own reproductive rights. You weren't allowed to, initially, to bring tampons," she explained.

During debate this month on abortion restricting legislation in Texas, protestors descended on the Texas Capitol. Officers with the Texas Department of Public Safety (DPS) confiscated items that could have been thrown into the gallery, including tampons and pads.

Democratic State Sen. Kirk Watson called the practice "boneheaded" and "crazy," telling the Associated Press that he was able to secure assurances from the DPS that it would stop.

"So just in case that ever happens again, ladies, you can just bring them on your earrings," Harris-Perry said, going on to introduce the show's next segment, donning on her ears what most women wear well out of sight.
Read the rest and watch a video of the performance here.