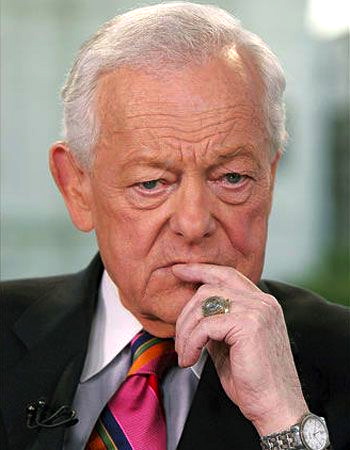 This comes via Da Tech Guy on DaRadio: 
There was a moment during Sunday's victory lap on the News shows for gay marriage and its media allies who support it that was very telling. Bob Schieffer the oldest and fairest (and that's not saying much) of the Sunday Morning Hosts in the MSM had just finished speaking with Ted Olsen and brought on Tony Perkins of the Family Research Counsel to talk the Gay Marriage Issue.

TONY PERKINS: …We're already seeing bakers and florists and photographers forced to participate in same-sex marriages under the threat of law and in some cases even jail. I can't think of anything that's more un-American than that. So I think as Americans see that there's a lot more to same-sex marriage than simply two people who love each other that they'll have time to reconsider this and– and– and decide whether or not we want to trade fundamental freedoms of speech and religion for the right of two people who love each other, which they can do now. They can live together, but can they redefine marriage in the rest of society with it?

Now to us in Massachusetts and who have been following the ride of the tolerance police, those sentences are nothing extraordinary but Bob Schieffer had no idea what Tony Perkins was talking about

BOB SCHIEFFER: How is it that bakers and florists are being forced to participate in this? I'm not sure I understand what you're saying here.

Perkins then educates him

TONY PERKINS: Well, we're seeing in Washington State, Colorado, and some of the other states that have these anti– anti-discrimination statutes that are being imposed that when a same sex couple comes and says "I want you to take pictures of my wedding or I want you to bake a cake." And they say, look, my religious convictions will not allow me participate in that, they're literally being sued by the government, not the individuals, and they've even been adjudicated in such places as New Mexico. So we're going to see a loss of religious freedom. There is no question about it. It's already happening.

Schieffer seems to be totally caught off guard by this, as evidenced by his hesitation in the following question.

BOB SCHIEFFER: How many– how many lawsuits have been filed on that? Because I must say this is under my radar. I haven't– I haven't heard this.
Now, Bob Schieffer is one of the most seasoned journalists still plying the trade—the only CBS News Correspondent to have covered the White House, State Department, Pentagon and Congress—and one of the few broadcasters who can claim deep roots in the world of print. (He was a reporter for the Fort Worth Star-Telegram back in the day.) He's a reporter's reporter, with uncanny instincts, a Rolodex full of amazing sources, and a real talent for writing and interviewing.
I speak here from personal experience: he's also a very nice guy.
But he really should get out more.