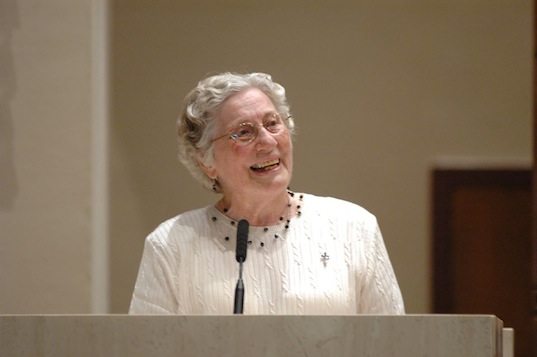 Over at the CNEWA blog, (where I toil as part of my day job) there's a heartfelt remembrance of a Mercy Sister, Christian Molidor, who worked for the agency for many years.  She died yesterday after a long illness.
The piece quotes Sister Christian's final e-mail, sent to her friends when she retired a couple years ago.
Print it out and tape it to your refrigerator. This says it all, and in a way that embodies beautifully the merciful charism of her order:
As a heartfelt gift to you, (and in my usual opinionated and nagging style), I end with a few suggestions for all:

Mend a quarrel, seek out a forgotten friend, dismiss judgments and replace with trust. Write a love letter, share some treasure, give a soft answer and encourage youth.

Manifest your loyalty in word and deed, keep a promise, find the time; forgo a grudge, forgive an enemy; listen, try to understand, examine your demands on others and think first of someone else. Appreciate. Be kind. Be gentle. Laugh a little, then laugh a little more, deserve confidence, fight malice and decry complacency.

Express your gratitude, go to church, welcome a stranger; brighten the heart of a child. Take pleasure in the beauty and wonder of the earth.

Speak your love; speak it again. Speak it still once again.

There, I think I've covered my parting thoughts. Let's pray together always; and if you remember, please tuck a prayer in your pocket for me.

Farewell and peace.
Amen.
Read more about her life here. 
Eternal rest grant unto her, O Lord, and let perpetual light shine upon her …