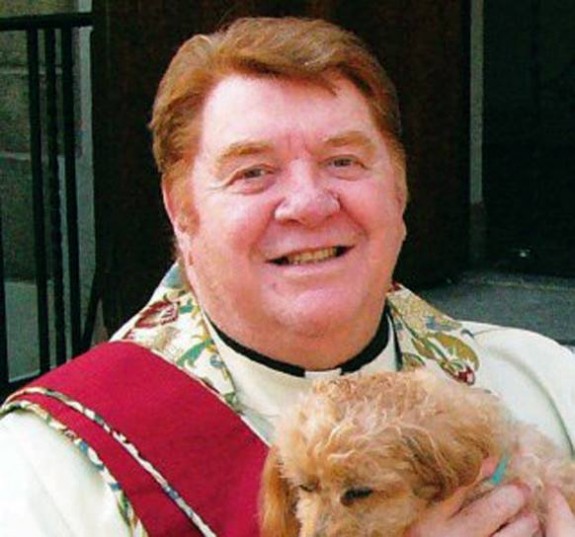 Bishop Chappetto, Bishop Sanchez, my brother clergy, family and friends from near and far…
As we gather together tonight, I want to begin by letting Msgr. Funaro's family know how much we at Our Lady Queen of Martyrs share your loss.  There have been a lot of tears in this rectory this week. We offer our prayers and our condolences. We mourn with you.
He was part of your family.
And he was part of ours, too.
I chose this gospel for tonight, the story of Lazarus, because this was Joe Funaro's gospel—the one he read at every funeral Mass he celebrated. To anyone who came to this church grieving, seeking words of consolation or comfort, this message is what he wanted them to hear.  A message of resurrection and hope.
Lazarus reminds us that the grave isn't the end of the story.
It is also a story of faith—the certainty of God's power to dispel doubt, to change hearts, to restore life. Underlying everything, it is all about faith.
No wonder Joe Funaro loved it. Above all else, he was a man of faith.  Tremendous, towering faith.
We heard him express that faith again and again from this altar in five words that could have been his creed.
Nothing is impossible with God.
Joe Funaro proved that himself again and again.  He was a man who believed in possibility.
Over 50 years ago, when the diocese didn't think this pudgy redhead from Bensonhurst who liked to draw could possibly become a priest…he proved them wrong.
Later, with limited funds but a lot of talent, he started a theater group that raised tens of thousands of dollars for Catholic Charities.
And then, in the wake of a headline-making financial scandal, he took over a parish that nobody wanted—and gave it new life.
Maybe another reason Joe Funaro loved the story of Lazarus is because he lived the story of Lazarus.
And he did it, day after difficult day, with enthusiasm and joy and love.
I mentioned family a moment ago. Over the last few days, the parish Facebook page has been filling up with remembrances, and one of the words that keeps coming up is "family."  This parish was family to him.  And he loved it like a family.
Families struggle and argue, love and forgive.  And of course, it all happens around the dinner table.  It's no secret: the dinner table was Joe Funaro's favorite piece of furniture. There's nothing he enjoyed more than a great meal. Thirteen years ago, when Bishop Daily asked him to take over this parish, if Msgr. Funaro had any misgivings, they must have vanished when he learned that the church sits across the street from an Italian restaurant.
Over the years, he loved taking people to Portofino, having people over for dinner, filling up the rectory with family and friends and making it feel, truly, like a home.  How many evenings did that rectory parlor echo with laughter, and music, and life.
He wouldn't have it any other way.
Robert Frost once said that "home is the place where, when you go there, they have to take you in."  If the parish community was a family, the church, to Joe Funaro, was a home. He insisted on keeping this church open during the day, to serve the community, as a place of prayer.  He was always looking for opportunities for people to come here and pray—and do it in the most beautiful way possible. He created the Padre Pio chapel at the entrance to the church. He put the parish feast day on the calendar and commissioned a parish hymn.  He transformed the Triduum with the addition of DuBois' beautiful "Seven Last Words." As time went on, Father Passenant came up with ideas for special Masses or novenas at the parish. Monsignor never said no.  He loved anything that brought people into this church.
So in addition to the Miraculous Medal novena, we soon had the John Vianney novena, the Padre Pio novena, the St. Joseph novena.
I think if the church had a novena for novenas, he would have added that here, too.
To this man of deep faith, the point was so simple: this is a place of prayer. And we are a people of prayer.
The greatest prayer, of course, is the Mass. It's why he struggled so hard to continue saying Mass long after most men would have given up.  He knew that the cornerstone of his priesthood, what gave it meaning and purpose, was bringing Jesus to others. And the fullest, most beautiful expression of that happens here, at this altar.
Several years ago, some parents approached Msgr. Funaro about having their children receive first communion.  But there was a complication:  the children all had autism. The parents had gone to other churches and every one of them, for one reason or another, said no. But then they came to Msgr. Funaro.  And he said yes.
So on an ordinary, unremarkable Saturday morning, we gathered here for a special Mass.  My wife was the lector.  I served at the altar. The parents and about a dozen children crowded into the sanctuary. But what started quietly soon devolved into chaos.  Children were screaming. Some were crying, running around, making noises. Parents were trying without success to control them and make them behave.
But in the middle of all that, Msgr. Funaro was a sea of tranquility. Completely unflappable.  Completely focused on the holy sacrifice of the Mass.
And by the end of that Mass, by the grace of God, every one of those children had received the Body of Christ.
Msgr. Funaro wanted to give them that gift.
A gift that was a testament to his faith.
And a gift that was also, I think, an act of love.
In that moment, he gave dignity to those whom others had written off. He made possible what those parents thought impossible.
Because, of course: nothing is impossible with God.
God can find a way to reach even those some people consider unreachable.
Yesterday, I got an e-mail from someone in the parish who wanted me to know how Msgr. Funaro had helped him come back into the church. This man came to him several years ago at a difficult moment in his life.  Monsignor, he said, listened. He then heard this man's confession—his first in over two decades.  And at the end, Msgr. Funaro told him something he said he's never forgotten: "God knows what is in your heart," he said.  "He loves you unconditionally."
That kind of story, I know, has been repeated hundreds, if not thousands of times.  The last few days, so many people have come up to me to tell me how Msgr. Funaro brought them back to the faith, making them know they were welcomed and loved.
To so many who were lost, Joe Funaro helped them find a way back.
To so many who were bound by sin or guilt or shame, he said, as Christ said of Lazarus, "Untie him and let him go free."
Those words tonight have a deeper resonance when we think about Joe Funaro – a man bound by the limitations and frustrations of his own body, now finally unbound and freed to eternal life.
Our prayer, our intention at this Mass, is that he is at last sharing in the heavenly hope that he preached about so often with this gospel.
We all know he had a great devotion to the Blessed Mother. I couldn't let this moment pass without mentioning Mary.  Every parish he was assigned to was named for Our Lady. He visited Lourdes many times, and credited its healing waters with saving his life.
And his earthly journey, of course, came to an end on the Vigil of the Assumption.
Perhaps…perhaps…that was a mother's gift to a devoted and faithful son.
It's fitting, I think, to close with some words that shaped Msgr. Funaro's faith, words he prayed so often. I used to take him communion on Sundays and his rosary was always nearby.  Those beads tonight are in his hands.
So tonight, in thanksgiving for all that he gave this parish, in joyful gratitude for this man of faith, and asking for Mary's intercession on his behalf, let us pray together:
Hail Mary full of grace, the Lord is with thee. Blessed art though amongst women and blessed is the fruit of thy womb, Jesus. Holy Mary, Mother of God, pray for us sinners, now and at the hour of our death, Amen.