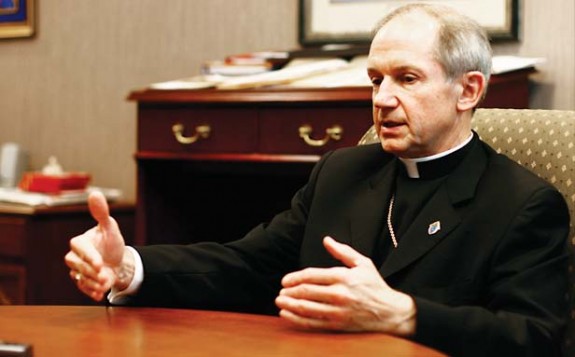 From the Washington Times: 
Bishop Thomas Paprocki is not the kind of Catholic leader who minces words. The prelate, who presides over the Catholic Diocese of Springfield, Illinois, warns that anti-Christian bigotry in the U.S. is on the rise and that the media is to blame.

In this exclusive interview with the Communities @TheWashingtonTimes, Paprocki shared his concerns about the growing hate and hostility for Judeo-Christian values in the U.S. and the attacks on Pope Francis and the Catholic Church in general.

We [Christians] have to mentally adjust. I know it is an adjustment for me because – and I assume for many other people as well – because I grew up in this country at a time when the values in our secular world mirrored the values of the religious world," Bishop Paprocki said. "And I think what's happening now is that relationship – that symbiosis between our culture and the church  -has been ruptured.

Paprocki compares today's situation in the U.S. to Christians being persecuted under Communist regimes and even in ancient times.

"We [Christians] find ourselves now – just in this short period of time – where the early Christians found themselves in the Roman Empire. So the church in 2,000 years, we started out as being a persecuted faith, with Constantine being an accepted established faith, then for centuries, kind of moving in that direction that had this close relationship between the secular world's values and Judeo-Christian values," Bishop Paprocki said. "And now I think we are moving in a direction that – not only is it more than secular – it's a rejection. It's an outright rejection [of Judeo-Christian values]. It's a pagan kind of a culture."

"The reality is that – ironically, it is becoming more like the Church was in the time of John Paul II in Poland under Communism where you [Christians] lived in a very hostile environment. We still have the First Amendment of our Constitution but that is being sorely tested. "
Read it all and watch a video at the link.