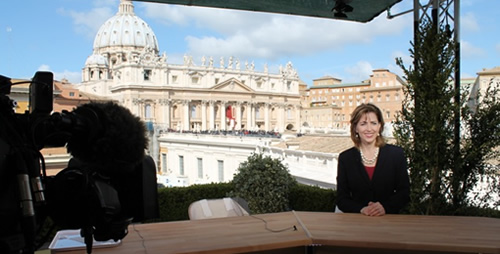 Tonight, EWTN unveiled one of its most ambitious undertakings ever: a nightly Catholic news program, anchored by Colleen Carroll Campbell.  Dubbed EWTN News Nightly, the title for now appears a misnomer. Seconds into the program, Campbell announced that this was a "preview" of what would at first be a weekly program, but which would then eventually air every day.
The EWTN team is clearly treading carefully. The show was originally announced to launch in June, but the date got postponed three months.  They evidently think there is still more work to do.
But based on the evidence tonight, they can relax. What EWTN has produced is a thoughtful, smooth, eminently interesting and, I dare say, important program. This is a show of substance. It would not be out of place alongside "Religion & Ethics Newsweekly" on PBS. Indeed, there's a pleasant PBS feel to the whole enterprise.  The production is blissfully free of distracting bumpers, teases, music and glitz.  It's straightforward, no frills. Campbell has the same Judy Woodruff-y air of reticence and reserve. She's no Diane Sawyer or Katie Couric—and we can thank God for that—but rather a moderate, appealing, even-tempered observer. She knows that she's not the story.  In her Q&As, she actually listens (!), and she's unafraid to ask the challenging question or lob a deserving follow-up. I liked what I saw.
But if  all the elements are in place, they lack right now a sense of urgency and zip. The program takes its time—too much time, I fear.  The lead piece was on Syria; the on-camera lead-in was waaaaay too long and static, but the piece that followed, focusing on a Syriac priest in Virginia, was compelling.  A segment on women responding to the HHS mandate struck me as fresh and different.  The field reporters in Washington and Rome were polished and professional.
The show could use more engagement; it's talky and overwritten, and the Q&A segments that followed taped packages tended to drag. It could also use a lighter touch. Even the really good feature piece at the end—incredibly, profiling a deacon and his wife at the parish in Maryland where I was baptized!—was weighted down with a lengthy intro by a guy standing at a screen with bar graphs and statistics. It's almost like they were afraid of appearing too soft.  After a 25-minute diet of Syria, the Supreme Court, the HHS and the Curia, give me something soft and easy to digest.  Please.
What really struck me, though, was something more elusive: a sense that this was not an exercise in strained Catholic apologetics. EWTN News Nightly isn't pious agitprop disguised as a news show; it's not The 700 Club for papists. This is a serious attempt at reporting the news, with a particular Catholic bent, avoiding bias and striving for balance.
What a novel idea!
And, while it's a work-in-progress, I think it's off to a very good start. Take it from one who's been there, done that: crafting a daily 30-minute Catholic news show isn't easy. But EWTN seems to have the brains and the resources to pull it off.  I'll look forward to seeing how it evolves and grows.
Take a look for yourself at the premiere and see what you think.