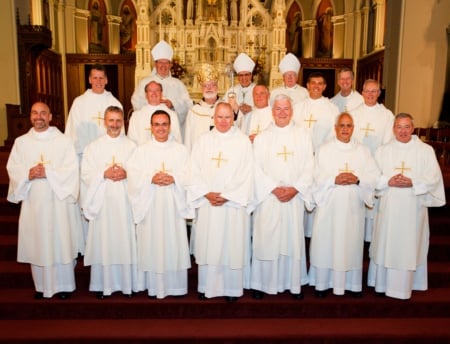 From the Boston Pilot:
At the ordination Mass of 12 new permanent deacons at the Cathedral of the Holy Cross, Sept. 21, Cardinal Seán P. O'Malley described their ministry in terms of the ministry of Pope Francis.

"The deacon has got a special call to be a bridge builder, a peacemaker, an artisan of community — revealing the merciful face of the Lord to those who are suffering, weak and forgotten," the cardinal said.

In his homily, the cardinal referred to a July trip Pope Francis made to the Italian island of Lampedusa.

"There he threw a wreath into the sea, where thousands of refugees have drowned in the last couple of years, and he warned all of us about the globalization of indifference to human suffering. The deacon is the Church's secret weapon in the fight against the globalization of indifference," Cardinal O'Malley said.

Ordained at the Mass were: Deacons Matthew P. Baltier, John David Barry, John H. Beagan Jr., John J. Burkly, Paul G. Coletti, Richard Joseph Cussen, Timothy Francis Donohue, Joseph R. Flocco Jr., Joseph P. Harrington Sr., William Mark Jackson, Kevin P. Martin Jr., and William Roland Proulx.

In his homily, the cardinal referenced an interview published earlier in the week in which the pope compared himself to the apostle Matthew, called to follow Christ despite being a sinner — a term the pope used to define himself in the interview published earlier in the week in the Italian Jesuit journal, La Civilta Cattolica.

"He says, I feel like that sinner on whom the Lord has turned his gaze. Each of has our own conversion or vocation story, some dramatic, some rather pedestrian. The fact is: Jesus has turned his gaze on each of us, and has invited us to follow him as his disciples," Cardinal O'Malley said.

The deacon, from the Greek "diakonos," meaning servant or minister, is the first of three ranks of ordained ministry in the Church. Among the many functions they perform in parishes, deacons may preside at baptisms, weddings and rites of Christian burial, assist the priest at Mass, proclaim the Gospel and deliver homilies. In addition to a parish assignment, each of the new deacons will also assist in one of the permanent ministries of the archdiocese.

"Our deacons have made such a great contribution to the life of the Church in so many ways. In not just the liturgical life of the Church, but our social ministries and passing on the faith of evangelization. We are counting on our deacons, and their wives, and their families," Cardinal O'Malley said.

The first Boston deacons were ordained in 1976, with new classes being ordained every two years. In 2011, the archdiocese began ordaining permanent deacons annually.
Congratulations and welcome, brothers! Ad multos annos!