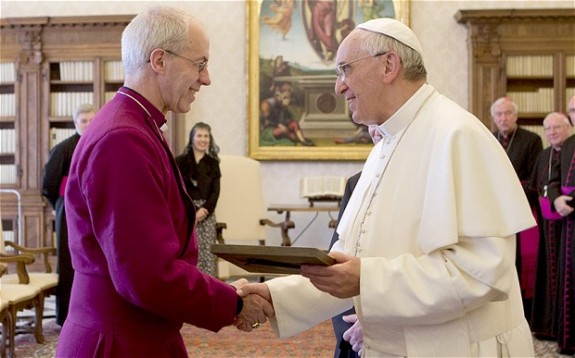 From the Telegraph: 
The Most Rev Justin Welby advised churchgoers that it could be an "enormously powerful" experience to unburden themselves to a confessor, even if it was not always a "bunch of laughs".
His comments came as he addressed the heads of other churches – including the leader of the Roman Catholic Church in England Wales, the Most Rev Vincent Nichols – about divisions between Christians.

Although Archbishop Welby comes from the evangelical wing of Anglicanism, his personal spiritual director is a Swiss Roman Catholic priest, Fr Nicolas Buttet, and he is a strong advocate of Catholic worship styles.

He spoke of being part of a wider "catholic tradition", adding: "I've learnt over the last 10 years about the great sacrament of reconciliation: confession.

"It is enormously powerful and hideously painful when it's done properly … it's really horrible when you go to see your confessor – I doubt you wake up in the morning and think, this is going to be a bunch of laughs.
"It's really uncomfortable. But through it God releases forgiveness and absolution and a sense of cleansing."

He acknowledged that he had his own personal struggles, remarking: "I'm an Archbishop; I know about the absence of humility. I struggle with it."