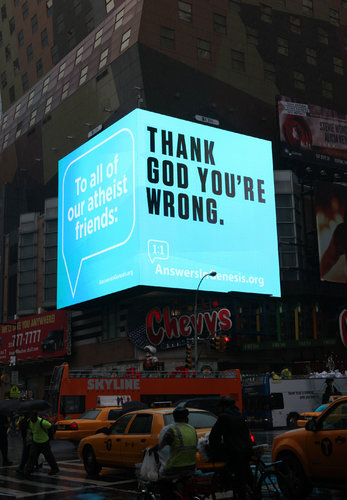 It looks like everybody is getting a jump on the season this year. From the New York Times:
If the evangelical organization Answers in Genesis was looking to take its message to a secular audience, it would be hard to do better than the heart of Times Square at noon on Monday.

Wedged amid an advertisement urging revelers to take a trip to Atlantic City, promotions for the new CBS drama "Hostages" and a promotion from Google was a 15-second video directed at New York City's atheists.

"To all of our atheist friends: Thank God you're wrong," the digital billboard blared on the corner of 42nd Street and Eighth Avenue.

As the lunchtime crowd passed by on the streets below, few gave it more than a passing glance, perhaps distracted by the frightening, blood-soaked photograph promoting the horror movie "Carrie" above the theater next door.

Or, perhaps, religious billboard battles between believers and nonbelievers just do not have the punch they once did.

After all, last week Pope Francis made headlines after sending a missive to one of Italy's best-known "nonbelievers," Eugenio Scalfari, the co-founder and former editor of the Italian newspaper La Repubblica, offering a conciliatory tone in discussing the Roman Catholic Church's attitude to atheists.

"Given — and this is the fundamental thing — that God's mercy has no limits, if He is approached with a sincere and repentant heart," Pope Francis wrote, "the question for those who do not believe in God is to abide by their own conscience. There is sin, also for those who have no faith, in going against one's conscience. Listening to it and abiding by it means making up one's mind about what is good and evil."

Of course, billboards do not often deal in shades of gray.

Usually, though, they spring up closer to Christmas, when they are more likely to attract news media attention.

In recent years, atheist groups have paid for a number of provocative billboard advertisements that were obviously meant to prompt a reaction from Christian groups, often succeeding.

For instance, when an advertisement appeared above the Lincoln Tunnel on the New Jersey side in 2010 that said, "You Know It's a Myth: This Season Celebrate Reason," it was quickly countered with another billboard on the New York side of the tunnel which read, "You Know It's Real: This Season Celebrate Jesus."

The holiday season seems to have started a bit early, with messages directed at atheists being sponsored in San Francisco, Los Angeles and New York.