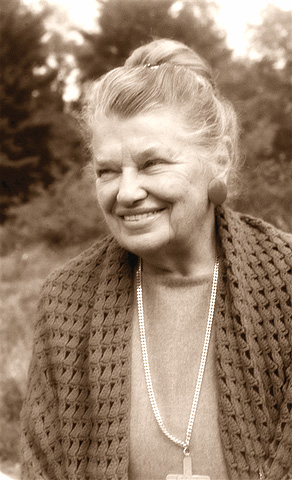 This is today's reflection from Give Us This Day, the monthly prayer periodical published by Liturgical Press and my frequent companion on my morning subway ride.  (Full disclosure: I'm also a contributor.)
This meditation comes from Servant of God Catherine de Hueck Doherty, who knew Thomas Merton back in the days before he entered the monastery (he writes about her in "The Seven Storey Mountain.")  In between being a prolific writer and speaker, she also founded Madonna House.   
I think her words here are especially timely, from her book Living the Gospel Without Compromise: 
As we approach the call to evangelize and spread the Good News we need to be extremely flexible in what we do and be attentive to new opportunities, openings, possibilities, that cut across our preconceived notions and beckon into ways and situations that we have barely assessed or perhaps never thought of. Be prepared for constant changes. We cannot be rigid in any way or undesirous of change. We seek a deeper impenetration or presentation of the Good News. It is important for us to use all modern means of communication and technology to put across the message of Christ.

Flexibility needs to be prepared for by observing, thinking, researching, and prayer. But it is important that we do all these together, as a united community. We need to beg the Holy Spirit to lead us in the right direction. If we look for the paths that God is already laying out for us, a new awareness, a new vitality and a new sense of challenge and adventure will come into our hearts. We need to be ready to follow Christ wherever he goes, for Christ has a way  of going into unexpected places. He often directs us toward an end that we don't yet perceive but that is just around the corner.