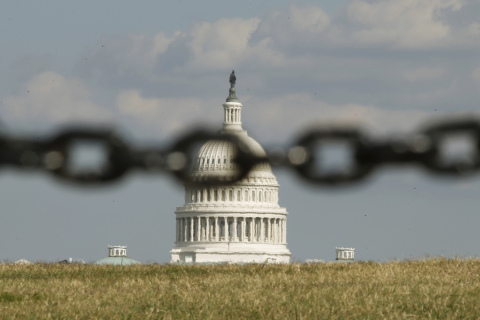 Just got this press release from the Archdiocese for the Military Services, which touches on something most people may not realize:
If the government shutdown continues through the weekend, there will be no Catholic priest to celebrate Mass this Sunday in the chapel at Marine Corps Base Quantico.  The priest who celebrates Mass there is a government contractor.

Military personnel enjoy, like all Americans, the First Amendment guarantee of the "Free Exercise" of their particular religious faith.  But because military personnel are considered a "captive audience," the laws of our country require the government to provide access to that faith.  This is why we have a military chaplaincy.  This all becomes very clear when one thinks of a military family stationed in Bahrain or Japan.  They cannot walk down the street to the local synagogue, church, mosque, etc.

There is a chronic shortage of active duty Catholic chaplains. While roughly 25% of the military is Catholic, Catholic priests make up only about 8% of the chaplain corps. That means approximately 275,000 men and women in uniform, and their families, are served by only 234 active-duty priests.  The temporary solution to this shortage is to provide GS and contract priests.   These men are employed by the government to ensure that a priest is available when an active duty Catholic Chaplain is not present.  With the government shutdown, GS and contract priests who minister to Catholics on military bases worldwide are not permitted to work – not even to volunteer.  During the shutdown, it is illegal for them to minister on base and they risk being arrested if they attempt to do so.

As an example, if a Catholic family has a Baptism scheduled at the base chapel at Langley AFB this weekend, unless they can locate a priest who is not a GS or contract priest, they should consider it cancelled.   Likewise, a Marine who attends Sunday Mass at the Quantico Chapel will have to go elsewhere this weekend.  If you are a Catholic stationed in Japan or Korea and are served by a Contract or GS priest, unless you speak Korean or Japanese and can find a church nearby, then you have no choice but to go without Mass this weekend.  Until the Federal Government resumes normal operations, or an exemption is granted to contract or GS priests, Catholic services are indefinitely suspended at those worldwide installations served by contract and GS priests.
UPDATE: The Archdiocese has just issued a correction.
Note:
It has come to the attention of the Archdiocese for the Military Services, USA that contrary to earlier reports, Masses will in fact be held as scheduled this weekend at Marine Corps Base Quantico. In spite of the government shutdown, the terms of his contract allow the priest there to perform his pastoral duties because of the way the contract is funded. Nonetheless, many Masses at other installations remain cancelled due to the shutdown.