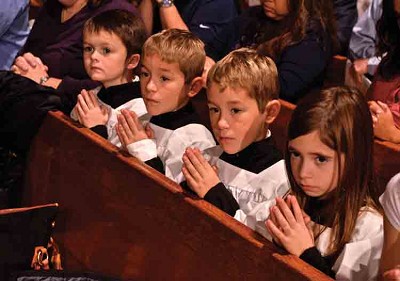 From The Catholic Standard in Washington:
Altar servers play an important role in the Church's celebration of the "mystery of God with us," said Washington Cardinal Donald Wuerl in his homily during a Mass to honor archdiocesan altar servers from parishes in Montgomery and Prince George's Counties and the District of Columbia.

"Every time you do your part, when you bring your gifts to the altar, the Mass is all the more beautiful," the cardinal told more than 500 altar servers gathered with their families for the Nov. 17 liturgy at the Basilica of the National Shrine of the Immaculate Conception. "Your neighbors, families and classmates see you and you are a reminder of how beautiful, how wonderful the Mass is."

In describing the altar servers as young "apostles," the cardinal said their duties help make "Jesus present" in our day for us. For this, he said, the Church is grateful for their service.

The Archdiocese of Washington Serra Clubs – which foster, promote and affirm vocations to the priesthood, diaconate and religious life – sponsored the Mass of recognition for the altar servers. Joining Cardinal Wuerl in concelebrating the liturgy were nearly one dozen archdiocesan priests including Father John Dillon, chaplain of the Serra Club of Washington; Father Adam Park, chaplain of the Serra Club of Downtown Washington; and Father Carter Griffin, archdiocesan director of priest vocations.

"(Jesus said) I will be with you always in the sacraments, especially in the Eucharist which becomes the body and blood of Jesus who is truly present," said Cardinal Wuerl. "Because of the importance of the Eucharist, we are recognizing all of you and is why we are having this Mass. Each one of us has an important role to play…."

The cardinal compared the two million pieces of colored mosaic glass which adorn the basilica's walls and ceilings to altar servers, lectors and Eucharistic ministers who all bring their individual talents and gifts to the Mass.

"All put together, you see the beauty of the Mass," said Cardinal Wuerl, praising the servers' dedication to the altar and the mystery of the Mass.

"May God continue to bless you and may you continue to be a wonderful gift to the Church as servers of the altar," he said.