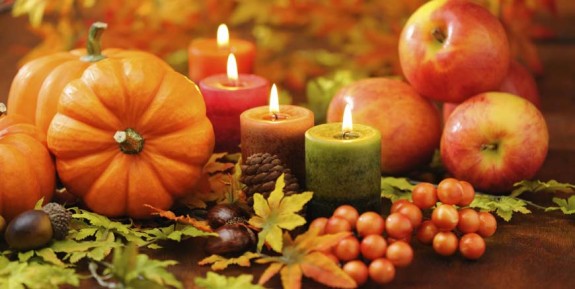 My parish is hosting the 25th Annual Forest Hills Interfaith Thanksgiving Service this afternoon. I've been asked to preach. Here's a draft of my remarks. 
+
As I was preparing my remarks for today, I stumbled on an interesting essay, by Presbyterian minister Henry Brinton in Fairfax, Virginia.  Taking note of all the stores being open on Thanksgiving – including, for the first time, Macy's—Rev. Brinton worried that we might be losing sight of what this holiday means, that it is becoming too commercial.  Writing on the Huffington Post, he wondered if we are forgetting how to give thanks. Are we taking it for granted?
And he asked an important question.
"Is Thanksgiving dead?"
Looking around this church this afternoon, I can tell you: we aren't here for a funeral.
Thanksgiving in Forest Hills is very much alive.  And this beautiful service gives witness to it.
For 25 years, as we've prepared to gather with our families for a feast, we have gathered with our extended family in temples, synagogues and churches around Forest Hills—friends and neighbors bound not only by geography, but also by a common cause: a need to express, with one voice, our thanks to God.
Yes: Thanksgiving is alive.
It is alive in all who know that the holiday we celebrate this week is about more than just one day or one season. It is, in fact, a way of life.
The people at the first Thanksgiving understood that.  In 1621, one of the pilgrims wrote: "By the goodness of God, we are so far from want."
That first Thanksgiving, of course, left us with an enduring image: pilgrims around a table, thankful to God after they had survived a difficult year in a new world.
But a few years ago, the great Unitarian minister Peter Fleck suggested that maybe we got it wrong.
Maybe, he said, the pilgrims weren't thankful because they had survived.
Maybe they had survived…because they were thankful.
Maybe they lived with what might be called "an attitude of gratitude" — cherishing deeply the life around them every day, in all circumstances, and finding God's grace everywhere.
It is that spirit, I think, that animates what we do here this afternoon.
It begins with realizing that one of the greatest gifts we have been given is each other—including all the extended members of the human family.
Every year, we use this interfaith service not just to give thanks, but to give, especially to those most in need.  But one of the blessings of attending this service every year is that it reminds us of the bonds we share as New Yorkers—and as citizens of the world.  It calls us to make the world, somehow, better.
I was struck by one image today: a candle.  We lit a "candle of hope" at the start of this service. Candles, of course, figure prominently in the Jewish celebration of Hanukkah, which starts Thursday. And next Sunday, we begin the season of Advent on the Christian calendar, with the lighting of candles in the Advent wreath.
I remember that a popular Catholic movement, the Christophers, uses a familiar Chinese proverb as its motto: it's better to light one candle than to curse the darkness.  Each of us here is a candle, lit against the darkness of a world that can be unfair, cruel, indifferent.
This afternoon, we join together to make that light brighter.
We've done that for a quarter of a century—through wars and recessions and storms of all kinds. Over the years, some of the buildings up and down Queens Boulevard have changed. Names and faces at this gathering have changed. Mayors and borough presidents have changed.  And yet, through it all, one thing hasn't changed.  In this neighborhood, we've continued to carry in our grateful hearts the sentiment of those first pilgrims:
"By the goodness of God, we are so far from want."
We are. This afternoon, as we have 24 times before, we celebrate that. We celebrate what binds us together as a community. We remember the gifts we have been given, the blessings bestowed.  As the reading from Deuteronomy put it so beautifully, we "bless the Lord for the good land he has given us."
We give thanks to the one God we all worship—the source of our hope, the source of the light that keeps us from cursing the darkness.  It is a light we cannot help but share.
As long as we continue to do that—not just one day, but every day—then, truly, Thanksgiving lives.