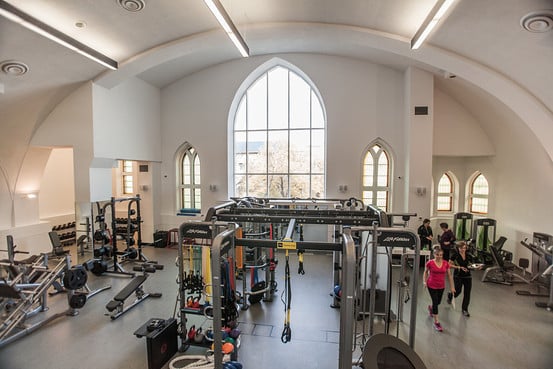 Photo: by Will Lew
Check out this item from the Wall Street Journal: 
Inside the former Saint-Jude Church in Montreal, personal trainers mill about where priests once did and hot-stone massages have replaced baptisms.

In this city, a former Roman Catholic stronghold where Mark Twain once said you couldn't throw a brick without breaking a church window, questions about what to do with all those churches have lingered for years.

Le Saint-Jude spa is one answer. The health club and spa opened two months ago in the city's trendy Plateau Mont-Royal neighborhood, after three years of planning and a year of construction. To turn the former church into a facility that caters to the body instead of the soul, the builders erected a two-story steel structure within the church, creating a modern enclosure within a building more than a century old.

The renovation, which cost 2.65 million Canadian dollars ($2.53 million), won a design excellence award in 2012 from Canadian Architect magazine.

While other areas in North America embraced separation of church and state, Quebec entrusted its key institutions—health care and education—to the Catholic Church. Official secularization came in the 1960s with the so-called Quiet Revolution. That transition, coupled with a general decline in attendance, left the Catholic Church with far more space than it needed.

Deconsecrated religious buildings in Quebec are so plentiful that the province established an advisory board to help tackle issues such as the disenchantment that often arises when the buildings are sold.

In Montreal, churches "were a public space, a meeting place and a power base," said Clarence Epstein, history professor at Concordia University in Montreal and author of "Montreal: City of Spires."

Former churches in Montreal are finding an afterlife as condominiums, galleries and arts spaces.