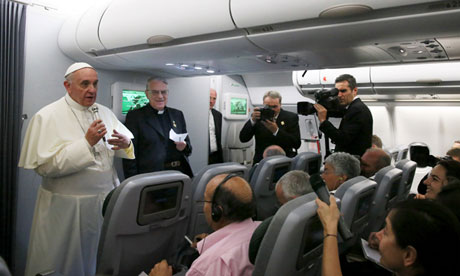 In an effort to equip future priests to better encounter the mass media, one seminary in Rome now provides a hands-on workshop in social communications.

"We need to be part of the world-wide conversation that is happening on social issues, on religion, on faith – and we can do that by being able to give educated and effective responses to the media when asked," explained instructor Ashley Noronha in an interview with CNA Nov. 19.

The goal of Norohna's "Media Training for Priests" workshop, held at the North American College seminary in Rome, is to offer "an opportunity for young seminarians and also for priests to learn how to work well with the media: to manage tough interviews, to navigate crisis communications and to learn to better, more effectively spread the message of the Church."

Recent participant Michel Niemczak, a seminarian of the Archdiocese of Santa Fe, New Mexico, described it to CNA as "an attempt to introduce us into the world of media relations and to see how we can evangelize, bring this good news of the Gospel to the world – the secular world as well as the Catholics who maybe don't know what's going on in our diocese."

The workshop is offered in three sessions which move from basic lessons on media communications to practice interviews in front of a camera. The participants choose controversial topics to prepare and spend seven minutes discussing the issues on film. In the last session, the students receive evaluation on their interviews.

"We're really able to practice by doing, and that's the best way to learn," added Deacon Christopher Bernabe, also of the Archdiocese of Santa Fe, who recently finished the workshop.

"I learned that I have so much to learn about how I communicate and present myself, but that its so important that we choose a topic and are prepared," he said.

"That we take our central theme and try to work that through throughout the entirety of it – and to do so joyfully, because what's most important about engaging the culture is to be certain that what we're talking about is true, but also to present it with joy, because that's who we are. We're a people of joy!"

"Jesus Christ died for our sins, he came down to lead us to a new relationship with him – and if we can't communicate that which is most important about our life, then we really have some problems," he emphasized.