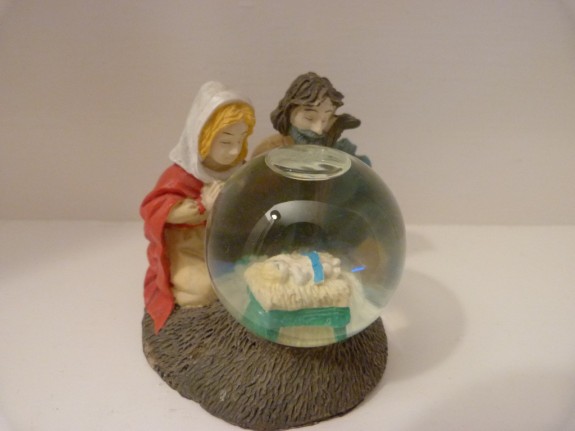 Egad.
Details from blogger Mark Oestreicher: 
There's no question about it: some are horrible and tacky. some are weird and freakish. some are merely meh. and some, well, rock.

I have one primary rule for inclusion (which i break a couple times because i can't help myself: I only include nativities that were made as nativities. In other words, I haven't included photos of the dozens of lego nativities, superhero nativities, star wars figurines nativities, barbie doll nativities, coke can nativities, alcohol bottle nativities, and others i've received. However, alert reader "joan from the detroit 'burbs" pointed me to a website with these kinds of nativities, and I just have to include one or two of them, because they made me laugh out loud (proving that i cannot effectively draw the line).

And a quick word to my Christian brothers and sisters (I am one of you!): I believe that the One who created laughter and humor and mouths that involuntarily curl into a smile loves laughter. I don't believe this list detracts from what I believe to be one of the most significant moments in human history, when God became a human. if anything, this is a roundabout way of drawing attention to Emmanuel, God with us (albeit, in a strange way!).
You have to see some of these to believe them. Check them out. The list includes a set made of bacon, another comprised of butter and—I'm not making this up—one constructed from tampons.
Oh, and here's further evidence that Christmas is going to the dogs: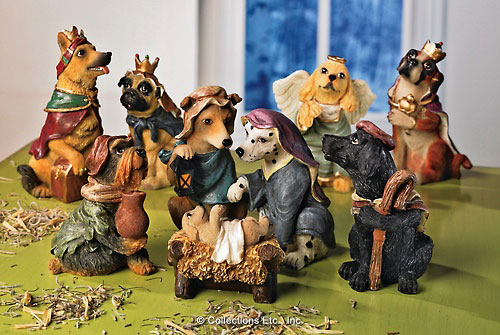 UPDATE: From the ridiculous, to the sublime. The CNS blog has details about the Nativity seen being erected in St. Peter's Square:
Vatican workmen have begun erecting a tall fence in the center of the square. They'll cover the fence with burlap to prevent public peeking at the Nativity scene that will be unveiled on Christmas Eve.

The scene has been titled, "Francis 1223 — Francis 2013," to honor Pope Francis' first Christmas at the Vatican, but also to recall his namesake, St. Francis of Assisi. According to tradition, the Assisi saint invented the Nativity scene in 1223 when, during a visit to the Italian town of Greccio to celebrate Christmas, St. Francis preached to the local residents at a mountainside grotto where he had assembled a hay-filled manger and an ox and ass to represent the scene of Christ's birth.

The Vatican's 2013 Nativity scene is being sponsored by the Archdiocese of Naples, the city that is home to some of the most famous Nativity scenes in the world.