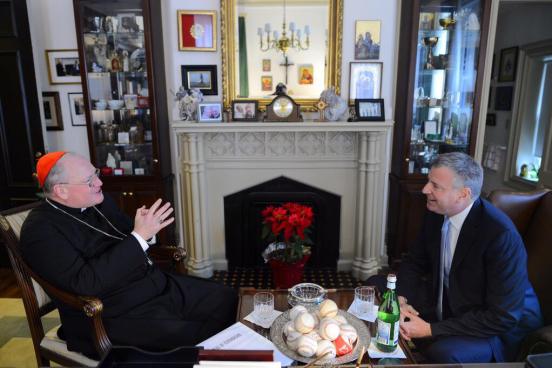 Mayor Bill de Blasio and Cardinal Timothy Dolan today met for the first time since Mr. de Blasio's election and vowed to join forces to try to bring Pope Francis to New York City.

Emerging after a 45-minute meeting at the cardinal's residence in Midtown, the ever-jolly Mr. Dolan and an excited Mr. de Blasio talked about how much they had in common, including a desire to bring the new pontiff to the city for a visit.

"We have a common passion and a common wish: We hope that some day Pope Francis will visit our city and [offer his] extraordinary blessings for New York City," Mr. de Blasio told reporters.

"Like so many people all over the world, I have been inspired by Pope Francis' message. I think he's the most powerful voice on this earth on how we have to address inequity all over the world and on the dangers of letting inequality grow. And it's my fervent hope that at some point, working closely with the cardinal, we'll have the opportunity to bring Pope Francis to new York City," added Mr. de Blasio, who was born to a Catholic family but does not currently belong to any organized religion.

But Mr. Dolan, who had once volunteered to bring Mr. de Blasio back into the Catholic fold if the mayor ever indicated an interest, said the two stuck largely to non-religious matters during their meeting.

"Well listen, if the mayor ever wanted to talk to me about his faith and religion, I'm a pastor first. But today we talked about more just the common visions. He was extraordinarily gracious in telling me about the deep Catholic roots of his own Italian family and about how he really feels that a lot of Catholic values and Catholic worldview that pervaded a lot of his thinking. But we didn't get into the specifics of his faith," he said, adding that, "If he ever wants to, the door's open."
Editorial note: "Mr. Dolan"? Really?