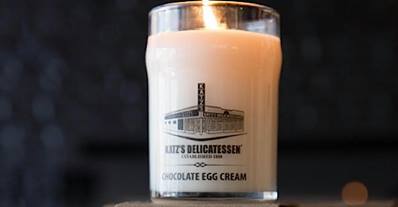 Yes, evidently they really do have things like this: 
If Jewish food were to have a signature scent, it would be the smell of Katz's deli — at least for me. The aroma of corned beef brined in spices, pastrami dripping with fat, fried potato knishes and freshly sliced rye assaults the senses the second you reach the door at the corner of Ludlow Street and East Houston.

Now the deli wants you to bring a small part of that scent home. Allow me to introduce the chocolate egg cream candle. According to Katz's website, the candles which come in vintage-style packaging and costs $25 can "Transform any room into a delicious blast from the past. These delightful candles are sure to sweeten up your day."
For the uninitiated, Katz's is the setting for the classic scene in "When Harry Met Sally." 
It is also one of the most famous Jewish delis in New York, a true landmark.