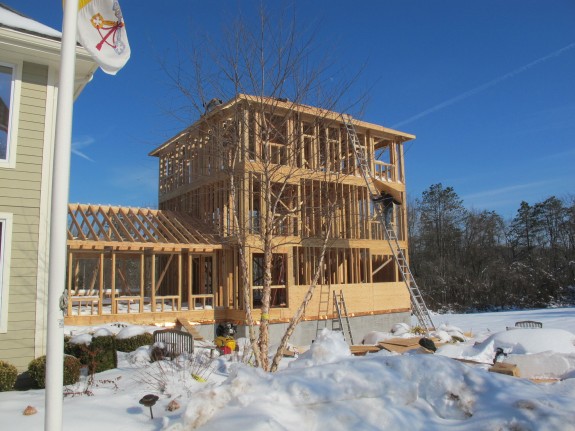 The Archdiocese of Newark has posted a statement regarding the controversy surrounding the archbishop's future home:
The current news coverage about the construction at the Archbishop's weekend residence contains a number of misrepresentations. In addition, comments from readers that have appeared along with these news stories also contain numerous errors and mistakes.

To begin with, the Archdiocese has not maintained a residence for the Archbishop in the Llewellyn Park area of West Orange for decades. The last Archbishop to live in that house was Archbishop Boland, who retired in 1974. That house was sold decades ago. It is also important to know that Archbishop Myers' principal residence has always been the rectory of the Cathedral Basilica, where he lives in community with four other priests. Like Archbishop Myers, both Archbishop Gerety and Cardinal McCarrick used the Cathedral Basilica rectory as their principal residence. Both had also maintained weekend residences as well.

The current weekend residence and future retirement home of Archbishop Myers was purchased in 2002 with funds from the sale of a prior residence at the Jersey Shore that had been donated to the Archdiocese more than 20 years ago. The planned construction is being paid for by donations from individuals specifically given for this purpose, and through the sale of other residential properties that the Archdiocese owns but does not need. The sale of these properties is expected to not only pay for the construction, but also to return funds to the Archdiocese for other ministry uses. No parishioner funds or Archbishop's Annual Appeal contributions are being used on this project. Similarly, no convents, schools or other Archdiocesan buildings are being sold to provide funding for this project. The Archdiocese does pay real estate taxes on this property.

It is also important to know that in recent years the Archdiocese of Newark, both directly and through subsidies by parishes, has provided some $15 million annually to maintain Catholic schools within the Archdiocese. Under the Lighting the Way strategic plan, the Archdiocese will continue to provide substantial financial support to Catholic elementary schools, and also will devote more resources toward marketing and enrollment services — two areas that many individual schools have not been able to master on their own.

Support for Catholic Charities and other outreach ministries continues to be provided through the Archbishop's Annual Appeal, and remains a key commitment to serving the needs of people, regardless of their religion.