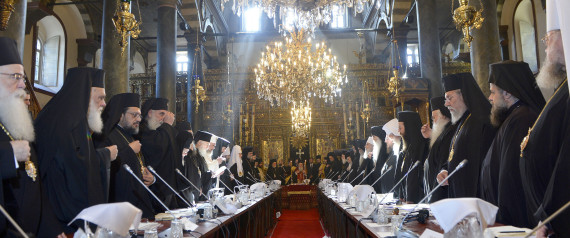 This is news that only breaks once every millennium: 
Patriarchs of the world's 250 million Orthodox Christians ended a rare summit in Istanbul on Sunday calling for a peaceful end to the crisis in Ukraine and denouncing violence driving Christians out of the Middle East.

Twelve heads of autonomous Orthodox churches, the second-largest family of Christian churches, also agreed to hold a summit of bishops, or ecumenical council, in 2016, which will be the first in over 1,200 years.

The Istanbul talks were called to decide on the council, which the Orthodox have been preparing on and off since the 1960s, but the Ukraine crisis overshadowed their talks at the office of spiritual leader Ecumenical Patriarch Bartholomew.

As the prelates left a special service at Saint George's Cathedral, a woman in the crowd called out in Russian "Pray for Ukraine!" Two archbishops responded: "You pray, too!"

In their communique, the patriarchs called for "peaceful negotiations and prayerful reconciliation in the ongoing crisis in Ukraine" and denounced what they said were "threats of violent occupation of sacred monasteries and churches" there.

The Russian Orthodox Church, with 165 million members by far the largest in the Orthodox family, last month issued a statement along with Moscow's Foreign Ministry about what they said were attacks on revered historic monasteries in Kiev and Pochayiv in western Ukraine.
UPDATE: Meantime, other sources describe this as a "pan-Orthodox council," not explicitly an "ecumenical" one. The communique calls it the "Holy and Great Synod":
In the framework of their Synaxis, the Primates also deliberated on the matter of the Holy and Great Synod of the Orthodox Church and decided that, upon expediting the process of preparation, it will be convened and presided by the Ecumenical Patriarch in Constantinople in 2016.

With regard to this matter, the Primates also determined issues related to representation and participation of the Orthodox Autocephalous Churches in this Synod, as well as the manner of decision-making at the Synod.
John at the blog Ad Orientum explains:
Some, mostly non-Orthodox are referring to this as an Orthodox Ecumenical Council.  And in fairness it might eventually become an Ecumenical Council. But Ecumenical Councils don't become Ecumenical before they meet. In the Orthodox Church a council first needs to meet, and then have its pronouncements received by the universal Church before it is considered Ecumenical. And even then the actual term 'Ecumenical' may not be everywhere applied.  There have been seven councils that are universally accepted within the Church as Ecumenical. But there have been nine Great and Holy Councils whose edicts are universally recognized. The last two are also termed as Ecumenical by many Orthodox (including this blog's author). But others have shied away from that term though all accept their pronouncements. So yes, it is possible that this could become either the eighth or tenth, depending on your reckoning, Ecumenical Council.