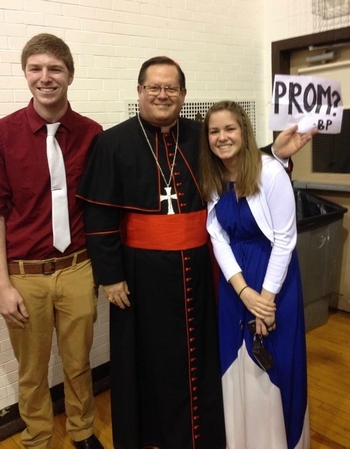 From The Manchester Union Leader:
Trinity High School senior Bryce Pepin was ready to ask his longtime girlfriend, Abbey Thompson, also a Trinity senior, to prom, and was searching for a creative way to pose the question. That's when divine inspiration struck, in the form of Trinity High alum Cardinal Gerald Lacroix.

"We were at the reception on Saturday at Trinity for Cardinal Lacroix, and my boyfriend asked him if he would help him ask me to prom," Thompson said Sunday night. "I can't believe he would ask him something like that, and that he actually helped."

Pepin asked Thompson to pose with Cardinal Lacroix for a picture.

Unknown to her, Cardinal Lacroix was holding a sign behind her that said "Prom??? — BP." When Pepin showed her the picture, she saw the message, and immediately said yes.

"I was shocked," Thompson said. "I still can't believe it. I guess Bryce slipped him a piece of paper and asked him to hold it, and he did it. That he took a few minutes out of a reception to do that is awesome."
Very awesome!