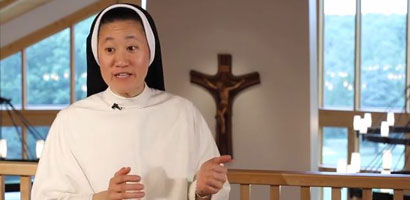 From The Catholic Herald:
The Dominican sister who gave a presentation on sexuality to students at Charlotte Catholic High School that sparked controversy among students and parents last month is taking a sabbatical from teaching and canceling her other speaking engagements.

The presentation March 21 by Dominican Sister Jane Dominic Laurel of Nashville, Tenn., entitled "Masculinity and Femininity: Difference and Gift," drew the ire of hundreds of students and parents over the past two weeks, and their emotions boiled over during a parents meeting with school and diocesan leaders Wednesday night.

Sister Jane has a doctorate in sacred theology from the Pontifical University of St. Thomas Aquinas in Rome, and her presentation at Charlotte Catholic was based on a series of instructional videos she created for Aquinas College in Nashville where she is an associate professor. She gave similar talks to youths and parents at St. Mark Church in Huntersville on March 23 and gave a related talk at Charlotte Catholic High School last fall.

In an April 4 statement, the president of Aquinas College defended the school's curriculum and Sister Jane's credentials as a theologian, but acknowledged that the portion of Sister Jane's presentation of social science data about the alleged causes of same-sex attraction – which prompted many of the concerns from parents and students – was outside the scope of her academic background.
The statement reads in part:
"We believe it is our privilege to bring the best aspects of our faith tradition to bear on the moral and cultural questions of the present age. In her presentation, Sister Jane Dominic spoke clearly on matters of faith and morals. Her deviation into realms of sociology and anthropology was beyond the scope of her expertise. Sister is a trained theologian from a Pontifical University and has the credentials to contribute to scholarly bodies of work. This she has done in the past with distinction. The unfortunate events at Charlotte Catholic High School are not representative of the quality of Sister's academic contributions or the positive influence that she has had on her students. The students at Charlotte Catholic were unprepared, as were their parents, for the topic that Sister was asked to deliver. The consequence was a complete misrepresentation of the school's intention to bring a message that would enlighten and bring freedom and peace."