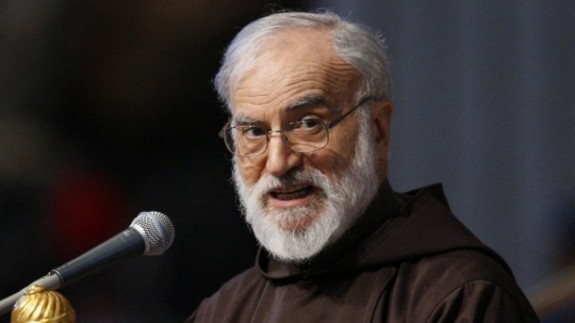 I stumbled on this homily today, and it seems both appropriate and prophetic. It comes from the preacher of the Pontifical Household, Capuchin Father Raniero Cantalamessa. It's part of his Good Friday homily from last year: 
We must do everything possible so that the Church may never look like that complicated and cluttered castle [described by Kafka], and the message may come out of it as free and joyous as when the messenger began his run. We know what the impediments are that can restrain the messenger: dividing walls, starting with those that separate the various Christian churches from one another, the excess of bureaucracy, the residue of past ceremonials, laws and disputes, now only debris.

In Revelation, Jesus says that He stands at the door and knocks (Rev 3:20). Sometimes, as noted by our Pope Francis, he does not knock to enter, but knocks from within to go out. To reach out to the "existential suburbs of sin, suffering, injustice, religious ignorance and indifference, and of all forms of misery."

As happens with certain old buildings. Over the centuries, to adapt to the needs of the moment, they become filled with partitions, staircases, rooms and closets. The time comes when we realize that all these adjustments no longer meet the current needs, but rather are an obstacle, so we must have the courage to knock them down and return the building to the simplicity and linearity of its origins. This was the mission that was received one day by a man who prayed before the Crucifix of San Damiano: "Go, Francis, and repair my Church".