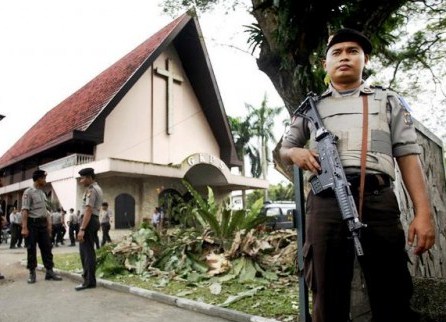 A group of Islamic extremists in the area of Besi have brutally and violently attacked faithful of the parish of the Holy Family of Banteng , in the area north of Yogyakarta (island of Java). Church sources in Semarang confirm the attack took place at 9 last night when Catholics held their weekly meeting to pray the Rosary and practice their Sunday hymns. Local witnesses report that, suddenly, a group of Islamic fundamentalists raided the private house owned by a local Catholic leader, throwing stones and rocks. The assailants brutally beat him and then fled in haste.

At the time the owner, Julius Felicianus, was not at home; informed of events, he left friends and colleagues and returned home to assess the situation in person.

However, as soon as he crossed the threshold of the house, the Islamic extremist group made a second and more violent attack: the Islamists stormed the apartment, assaulting Felicianus – Director of Galang Press, a small publishing house local – with stones and an iron bar. The group also hit him over the head with an earthenware vase causing a deep wound. What is striking is the fact that they wanted to target him and other members inside the house as well as some journalists, who arrived on the scene.

The reasons for the attack is unknown. It is also unclear whether they wished to target the publisher in particular, or the entire Catholic community. The incident has caused shock and fear among the faithful who fear new attacks.

Interviewed by AsiaNews, the Archbishop of Semarang Msgr. Johannes Pujasumarta reports that the reasons behind the attack should be investigated quickly and clearly; he hopes for thorough investigations, not only by the police, but also "the local Catholic community " and the results will be handed over "to the authorities for further investigation". Sources engaged in interreligious dialogue recall that the area is known for the presence of various Islamic organizations, moderate and extremist; the latter have become protagonists in the past of violent attacks against the Muslim Ahmadi minority.