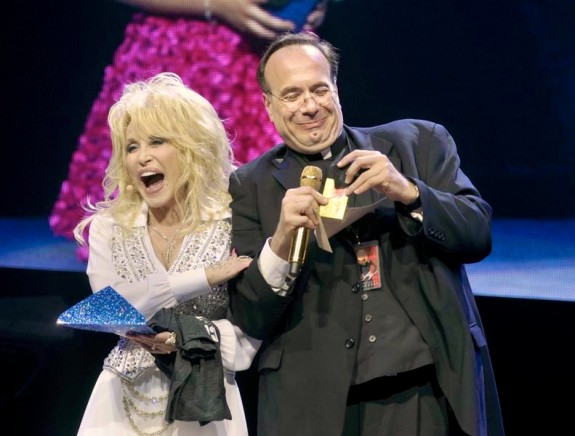 Now for something completely different.
From Richmond, Kentucky: 
In the three years since it opened, no performer has filled the EKU Center for the Arts with sound or fans as Dolly Parton did Tuesday night.

The Country Music Hall of Famer made her second appearance  in Richmond for the St. Mark Catholic Church "Evening Among Friends" in what most observers believe is her final concert tour.

If that is the case, the concert gave the 2,000 fans who packed the house a final opportunity to thank and demonstrate how much they adore her and she them.

As he introduced her, Father James Sichko, pastor of St. Mark, asked the fans to "take the roof off this building and give this icon the welcome she deserves."

They responded with a deafening roar, something they kept repeating for the non-stop two-hour show.

"We're here with love in our hearts," Sichko told Parton, and the fans registered their agreement in resounding fashion.

"Father Jim is the best opening act I've ever had," Parton responded.

"I've been dreaming of this since I was a little girl," she said of performing before thousands of fans, "and I want to thank you all for making it happen."
There was a little religion thrown in—and some Catholic humor, too:
Parton was move reflective Tuesday night, talking at length about her parents and  pentecostal-preacher grandfather, as well as her faith.

Her pentecostal faith taught her to believe "all things are possible," she said.

"God's greatest gift is beautiful memories," Parton said, before launching into the country gospel favorite "Precious Memories."

Even with the heart-felt seriousness she displayed at times, Parton didn't abandon her trademark humor. And she didn't shy away from joking about herself or her host.

"I was one of 12 children, six boys and six girls," she said, "and no we weren't Catholic. We were just a bunch of horny hillbillies."

Alluding to how her family's faith differs from her host's, Parton said, "We're all just trying to get to God and get to heaven."

Church played a big part in her life growing up, she said, adding "we should celebrate our differences because God loves us all."

She prays everyday, she said, "to be a better person, to be loving, kind and giving."
The parish has turned these concert performances into major fundraisers. Previous performers have included  Bill Cosby, Regis Philbin, Natalie Cole, Harry Connick Jr. and Donny Osmond. The next celebrity guest: Reba McIntire.