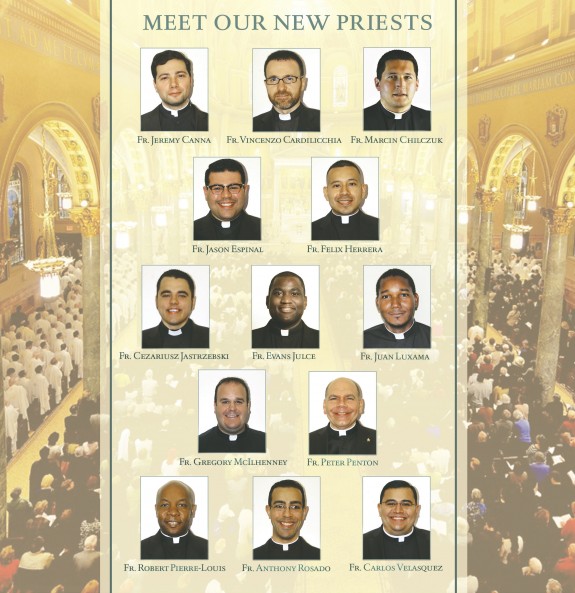 Today, we welcome 13 new priests for the diocese, the largest ordination class in the United States. One of the men being ordained is my friend Jeremy Canna.  I look forward to serving at his Mass of Thanksgiving tonight, and receiving one of his first priestly blessings before I proclaim the gospel. A guy I've thought of like a little brother is actually old enough to be my son, but today I will call him "Father."
His bio, from The Tablet:
Music is a means for Father Jeremy Canna, 27, to grow closer to God and His people.

Born in Marine Park, he grew up as a member of St. Thomas Aquinas parish, Flatlands, where he attended Sunday Mass with his parents, Maria and William, and younger siblings, Brandt and Noël.

As a youngster, he became an altar server and was inspired by his parish priests and Father Joseph Gancila, who served his pastoral year as a seminarian at the parish.

He attended kindergarten at Good Shepherd School, Marine Park; grammar school at St. Agnes Seminary, Marine Park; and middle school in the Genesis Program at Xaverian H.S., Bay Ridge.

For Father Canna, the door to the priesthood opened when his parents suggested he consider attending high school at Cathedral Prep Seminary, Elmhurst. During freshman year, he was impressed by the priestly example of his teacher, Father Fred Marano, and he began "falling in love with all things Catholic."

He went on to Cathedral Seminary Residence, Douglaston; Immaculate Conception Seminary, Huntington, L.I.; and St. Joseph Seminary, Yonkers, N.Y. During summers, he worked in the diocesan Archives Office.

He earned his bachelor's degree with a double major in psychology and philosophy and a minor in theology at Sat. John's University, Jamaica. He attained master's degrees in theology and divinity from Immaculate Conception Seminary.

A gifted pianist and organist, he grew in his love for the faith through music ministry. He played the keyboard for daily Mass at the prep seminary and played the organ at Mass while living in Douglaston.

He left the seminary to study mental health counseling in the Graduate School of Education at Fordham University, Manhattan, during the fall of 2008, and served as organist at Holy Child Jesus, Richmond Hill, 2008-09.

But he kept his heart open to the Holy Spirit and further discerned his path with guidance and encouragement from Auxiliary Bishop Octavio Cisneros, pastor of Holy Child Jesus.

"Bishop Cisneros was a great example as rector (of Cathedral Seminary Residence) and has been like a father figure to me," he said.

Father Canna felt the Lord was calling him back to the seminary and if he didn't heed that call, he said, "I knew my life wasn't going to make sense."

He served his pastoral year at Our Lady Queen of Martyrs, Forest Hills, and his diaconate year in the neighboring parish of Our Lady of Mercy, Forest Hills. Both experiences enabled him to enter more fully in the lives of the people of God and minister with them in various ways, including music.

"We always imagine the angels and saints praising God through singing and music," he said. "Music helps me to praise God and make a song out of my life."

Father Canna has a special devotion to the Blessed Mother, and in his priesthood, he hopes to serve with "the spirit of availability that the Blessed Virgin Mary showed at the time of the Annunciation."

Father Canna will offer his First Mass of thanksgiving at his home parish of St. Thomas Aquinas on Saturday, June 28 at 5:30 p.m.
Read about all the men who will be ordained today here.  Please keep them all in your prayers.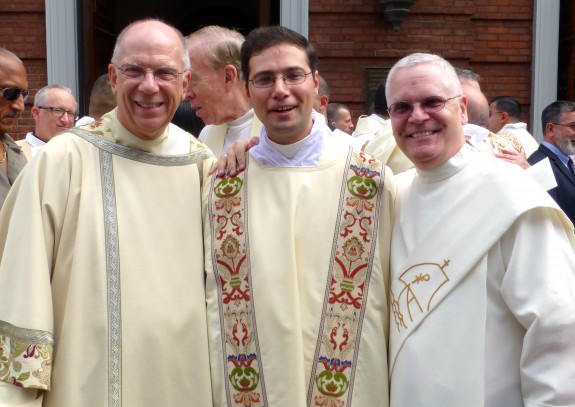 A PRAYER FOR PRIESTS by Cardinal John O'Connor

Lord Jesus, we your people pray to You for our priests. You have given them to us for OUR needs. We pray for them in THEIR needs.

We know that You have made them priests in the likeness of your own priesthood. You have consecrated them, set them aside, annointed them, filled them with the Holy Spirit, appointed them to teach, to preach, to minister, to console, to forgive, and to feed us with Your Body and Blood.

Yet we know, too, that they are one with us and share our human weaknesses. We know too that they are tempted to sin and discouragement, as are we, needing to be ministered to, as do we, to be consoled and forgiven, as do we. Indeed, we thank You for choosing them from among us, so that they understand us as we understand them, suffer with us and rejoice with us, worry with us and trust with us, share our beings, our lives, our faith.

We ask that You give them this day the gift You gave Your chosen ones on the way to Emmaus:

Your presence in their hearts,
Your holiness in their souls,
Your joy in their spirits.
And let them see You face to face in the breaking of the Eucharistic Bread.

We pray to You, O Lord, with Mary, the mother of priests, for Your priests and for ours. Amen