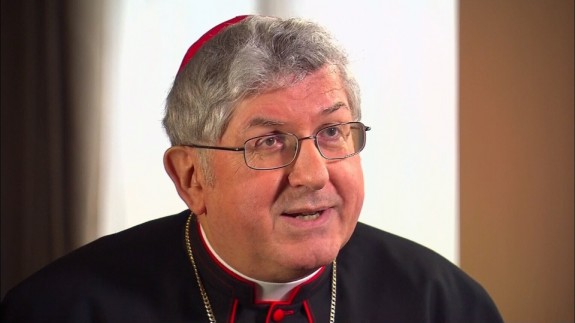 Over at Fr. Robert Barron's excellent "Word on Fire" site, Brandon Vogt has a lengthy interview with Toronto's Cardinal Thomas Collins, who looks ahead to the coming Synod on the Family
Brandon Vogt: Some Catholics hope the Church will soon change her position regarding communion for those who are divorced and remarried, perhaps at the upcoming Synod. Others worry such a change would undercut Jesus' clear teachings on marriage. On this issue, which teachings and practices are immutable and which are open to change?

Cardinal Thomas Collins: The Synod on the Family will surely deal with the whole range of issues facing the family today, not only this one issue of communion for those who are divorced and remarried. For example, one of the key problems we face now is that couples are more often living together without getting married. And there are many societal trends, especially in the western world, that undermine the family. The question of communion after divorce and remarriage is one among many issues, and I would imagine that the Synod will spend most of its time on the broader issues affecting marriage and the family.

The command of Jesus that marriage is unbreakable is central to the Christian understanding of marriage, and cannot be changed by the Church. But we can change the way we help couples prepare for marriage, and help them live their marriage, and help them practically if their marriage breaks down.

Even apart from Our Lord's command, divorce is a great human tragedy that can have devastating effects upon the spouses, and especially upon their children. That is why we need to do all that we can as a Catholic community to help couples prepare for marriage, and to assist them during marriage. An ounce of prevention is worth a pound of cure. There are many groups, such as "Marriage Encounter", and other such groups, that offer great assistance to spouses. When there are problems in a marriage, groups such as "Retrouvaille" seek to help the couple once more have a healthy marriage…

…Our Lord's teaching on marriage, like his whole teaching on discipleship, can at times be very difficult. Especially in the world in which we live, but really in all periods of history, a certain heroism is required in the Christian life. We are all called to holiness; that is not just the vocation of the few who are canonized, but of all of us.

So what cannot be changed is the fact that what God has joined together, no one can put asunder. But the Synod may well deepen our understanding of Christian marriage, building on the treasure of teaching in Scripture and Tradition, such as the beautiful document of St. John Paul II, Familiaris Consortio. We need above all to help couples faithfully and fruitfully live the sacrament of marriage.

Sadly, marriages sometimes fail, and the Synod may try to find more effective ways of caring for people in those painful situations. If a couple separates, despite every effort to heal the marriage, and are legally divorced, each is called to continue in a faithful life of Christian discipleship. They cannot marry again, as they are married already. Many divorced Christians lead a life of exemplary holiness, recognizing this reality. They are an inspiration to us all. I hope the Synod offers encouragement to those who are divorced and faithfully living the Christian life.

Perhaps, when someone has been civilly divorced, if the marriage is examined by a Marriage Tribunal of the Church, it will be found not to have been valid, and the person will be free to marry. But that may not happen, or a person for various reasons will decide not to seek to discover their status in the Church concerning their marriage (that is, whether they are in reality single or married). Although the dedicated staff of marriage tribunals offers great pastoral care to those whose marriage has failed, the Synod might be able to find ways of improving the processes tribunals use for making a judgement concerning the validity of marriages, and so that is one possible area of change. Any human process can always be improved.

Many people who are divorced, and who are not free to marry, do enter into a second marriage. There are various reasons that can lead to this, and their fellow parishioners should not occupy themselves speculating about them. Catholics in that tragic situation can be involved in many ways in the life of the community, but they may not receive the sacraments, such as Holy Communion, since whatever their personal disposition is or the reasons for their situation, known perhaps only to God, they are continuing in a way of life which is objectively against the clear command of Jesus. That is the point…. Although it would not be right for them to receive the sacraments, we need to find better ways to reach out to people in this situation, to offer them loving assistance.

One thing that would help would be if all of us realized that receiving communion is not obligatory at Mass. There are many reasons why a Christian might choose not to receive communion. If there were less pressure for everyone to receive communion, it would be some help to those who are not in a position to do so.

Often, people in this situation decide no longer to continue as members of the Catholic community, as they are not able to receive sacramental communion at Mass, even though they can experience a kind of spiritual communion through prayerful adoration, although abstaining for good reason from receiving communion; that, for a Catholic can be a truly penitential act. It is a great tragedy if they leave the Church. It is likely that they, and their children, and their descendants, will become disconnected from the source of life in Christ that is found in the Church. We need to think of what we can do to reach out to people in this situation, in a loving and effective way. But as we do so, we also need to be attentive to the command of Christ, and the necessity of not undermining the sanctity of marriage, with even more dire consequences for all, especially in a world in which the stability of marriage is already tragically compromised. If we proclaim in actions, even though not in words, that the marriage covenant is not really what Jesus says it is, then that offers short term comfort at the cost of long term suffering. As the sanctity of the marriage covenant is progressively weakened, it will ultimately be the children who will suffer most.

So although fidelity to the teaching of Christ on the indissolubility of marriage is not open to change, there may be things that we can change to assist our brothers and sisters in Christ who are in this difficult and painful situation.
There's much more on this topic and others. Read it all.