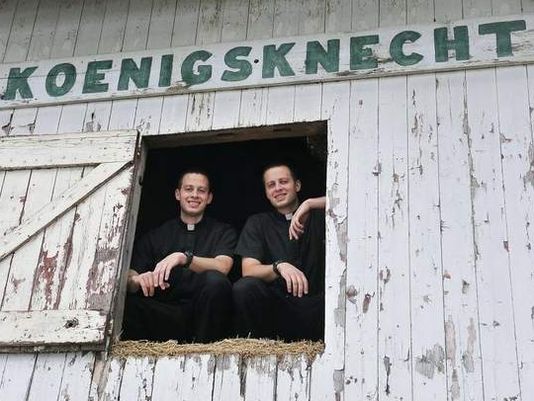 When was the last time this happened?
Working on weekends as a deacon at St. Agnes Catholic Parish in Fowlerville, Gary Koenigsknecht would occasionally need to gently correct someone who belonged to St. Mary Catholic Parish a couple of towns west.

"You would have somebody from Williamston say, 'Hey, I saw you last week!' " he said. "And it was like, 'No, you really did not.' "

That's because the tall, blue-eyed deacon with military-short brown hair and an easy, welcoming smile at St. Mary in Williamston was Gary's identical twin, Todd.

After eight years of study and preparation, the brothers were ordained as priests Saturday at St. Thomas Aquinas Church in East Lansing.

The Rev. John Linden, director of vocations for the 10-county Diocese of Lansing, said he believes Gary and Todd will make excellent pastors.

"They are just down-to-earth, and they make you feel comfortable in their presence," he said.

"There is nobody those two boys couldn't get into a conversation with and make the other feel welcome and heard."

Todd and Gary, 26, attribute much of that to their upbringing on their parents' organic dairy farm near Fowler.

Todd is the fourth and Gary the fifth of 10 children born to Agnes and Brian Koenigsknecht. They grew up attending Most Holy Trinity Church in Fowler and attended Catholic schools through eighth grade.

The brothers put in many hours tilling, planting, shoveling manure and milking cows on the farm, where the family cultivates 200 acres and has 100 milk cows.

Sometimes, they would work side by side with their uncle, the Rev. William Koenigsknecht.

Now a senior priest in the Lansing Diocese, he has served at a number of Lansing parishes, including Church of the Resurrection in Lansing.

He would often take Wednesday off from his priestly duties to feed cattle or harvest crops with his brother's family.

The brothers grew up without a TV and with their parents modeling hard work and prayer. They also encouraged all of their children to become involved at church.

"The farm is a good context for family life," Todd said.
God love 'em. Congratulations, brothers. Ad multos annos!