A first snapshot, below, of the new deacons and their wives: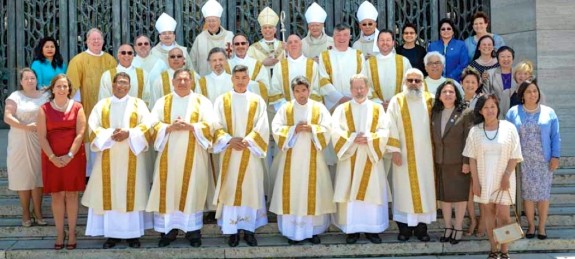 Details, from Catholic San Francisco:
Archbishop Salvatore J. Cordileone ordained 14 men as permanent deacons May 31 at St. Mary's Cathedral, noting their "special relationship to those who are marginalized."

"The thrust of a deacon's life is always other-centered," the archbishop said in his homily, noting that the ordination date was the feast of the Visitation of Mary to her cousin Elizabeth, when John the Baptist leapt in Elizabeth's womb, recognizing the Messiah he would herald as an adult and then "move out of the way" so others could encounter Christ.

"True happiness is not found in seeking greatness for ourselves but in lowering ourselves to serve others," Archbishop Cordileone said. "Dear brothers, may your diaconal ministry be a source of blessedness for you," the archbishop said, so "that those far off might be brought near, that they might be brought into the fold of God's eternal life, light and love."

The 14 men ordained to the permanent diaconate were Marcos M. Cobillas Jr., Romeo Gatica Cruz, Graham S. Cumming, Rory Desmond, Eddy J. Gutierrez, Robert Joseph Meave, Abel Mejia, Mynor Montepeque, Alvaro Antonio Ortega, David R. Previtali, Arthur R. Sanchez, Martin Schurr, Charles Seagren and Fuad Sulaiman Totah.
Ad multos annos!
Congratulations, brothers, and welcome!