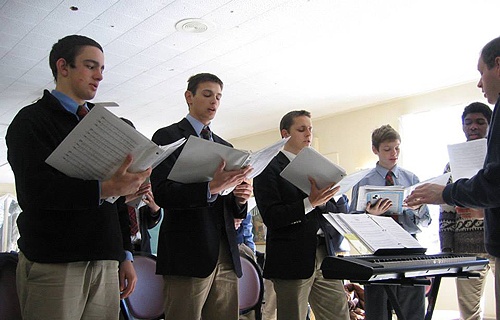 Gregory the Great Academy, a Catholic all-boys boarding school, has graduated its first class as part of its efforts to form young men in a life of virtue for the building up of a Catholic culture.

"The spirit of the school is certainly characterized by joy," Sean Fitzpatrick, the academy's headmaster, told CNA June 11.

"We strive to rejoice in the truth at Gregory the Great and to participate in those mysterious realms of joy where men can, by some miracle, join their voices and even their actions to a chorus of divine praise."

The academy, presently located in Scranton, was founded after the Priestly Fraternity of St. Peter closed down the Elmhurst, Pa.-based St. Gregory's Academy in 2012 after 19 years in operation.

Many of the school's lay faculty and a group of alumni decided to begin a new school, with no official link to its predecessor.

The new school's supporters include Bishop James Conley of Lincoln, who sits on its board of directors, and Abbot Philip Anderson of Our Lady of the Annunciation Monastery in Clear Creek, Okla.

Fitzpatrick said the school, inspired by the ideals of the University of Kansas professor John Senior, aims to foster "an authentic Catholic culture."

The school bars its students from watching television and using personal music devices, computers, or cell phones.

Fitzpatrick said that while electronic devices are not bad in themselves, they are "often a huge distraction" and can separate teenagers from "the real world around them."

Students who want to listen to music must learn to play songs for themselves, he said…

…The school also focuses on the "centrality of the liturgy." The liturgy is "a school of praise" that fulfills the purpose of the liberal arts to help students pursue their final end – eternal beatitude.

The academy's schedule includes daily prayer such as a morning Office of Readings, an evening rosary, and chanted Compline at night. Its chaplain, Fr. Michael Salnicky, is a priest of the Ruthenian Eparchy of Passaic.

The students' choir sings for several nearby communities, including those that celebrate the Traditional Latin Mass.