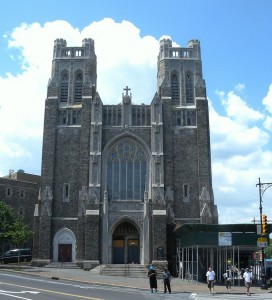 A homeless man sleeping on church steps was kicked in the face and stomped into unconsciousness in a Bronx attack caught on video, cops said on Monday.

The man was snoozing in front of Saint Nicholas of Tolentine Church at West Fordham Road and University Avenue when three men approached him around 10 p.m. Thursday.

Surveillance camera footage captured the attackers kicking and stomping him.

Cops say the 41-year-old victim was rushed to Saint Barnabas Hospital, where he is still listed in critical condition.
Watch for yourself below.
In a culture that has legalized killing the unborn, that is increasingly euthanizing the aged and infirm, and where some unapologetically compare water torture to baptism…are we really surprised?
God have mercy on us.