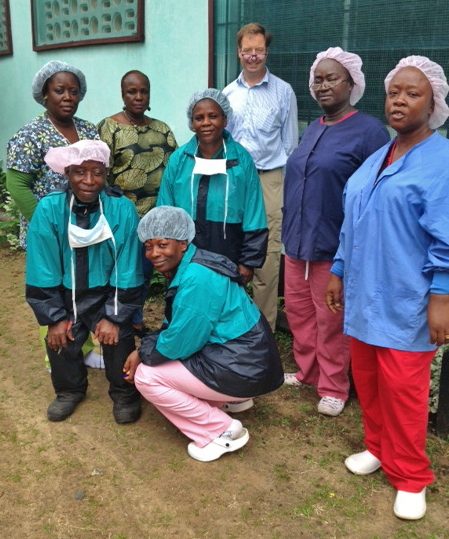 Here's a humbling profile of a deacon who is serving in ways most of us can't fathom.
From The Rhode Island Catholic:
According to the World Health Organization, the Ebola outbreak in West Africa has infected at least 4,269 people, and claimed the lives of 2,288 as of Tuesday. It is the worst Ebola epidemic in history.

WebMD reports that the disease, also known as Ebola hemorrhagic fever or Ebola virus, kills up to 90 percent of infected individuals.

To help combat the deadly illness, Dr. Timothy Flanigan flew to Monrovia, Liberia, on his own accord to train and educate health care teams at Catholic hospitals and clinics.

"This is a terrible, infectious disease, which one can deal with safely with the appropriate training and supplies," said Dr. Flanigan, an infectious disease specialist at Miriam Hospital, as well as a deacon at Tiverton parishes St. Christopher and St. Theresa, in a telephone interview last week with Rhode Island Catholic from Monrovia. "West Africa really did not have the proper equipment or the training to work with Ebola because it requires stringent infection control. But, infectious control is now being practiced in all health care settings and hospitals."

For the next two months, Dr. Flanigan, who is also a professor of medicine at Brown University's Alpert Medical School, will be living at a guesthouse in Monrovia next door to St. Joseph's Church. Accompanied by Sister Barbara Brilliant, FMM, dean of Mother Patern College of Health Sciences, and a coordinator with the Catholic Diocese of Monrovia, he arrived on August 31 with at least 10 bags filled with items such as masks, gowns and gloves.

"There also are lots of individual and national aid organizations that are sending in tons of supplies," he said, acknowledging The Bernadine Sisters, The Salesian Missions, Catholic Relief Services and the Vatican, as Pope Francis initiated a charity to help. "The Church is present at the forefront of this epidemic."

The Diocese of Providence has contributed to the effort as well, donating $2,500 donation to Tiverton Cares, a non-profit organization that's assisting Dr. Flanigan by channeling required resources directly to the crisis area. In a letter to the organization accompanying the donation, Bishop Thomas J. Tobin noted, "We are proud that Dr. Flanigan, as a deacon of our Church, is making this significant sacrifice to serve so many people who are suffering from the terrible scourge of Ebola."

The diocese, along with Dr. Flanigan's parishes, has been collecting supplies such as hand sanitizer, bleach, disinfectants, plastic spray bottles and more. Father Przemyslaw "Shemek" Lepak, pastor of St. Christopher and St. Theresa, is overwhelmed by the support of his parishioners. That is especially true of Bob Gaw, a parishioner at St. Christopher, who donated a "whole truck full of supplies."

"Every day, people are dropping off items," said Father Shemek, adding that collected goods will be sent out via The Salesian Missions.

Still, he was "shocked" when Dr. Flanigan told him he was interested in going to Liberia.

"The first thing I asked him was, 'is it really what you want to do?'" Father Shemek said. "He said, 'it's not really about what I want. I feel God is calling me to go.' He dropped everything to serve the Lord. He is a remarkable person, and a man of great faith."
This is inspiring and, I think, downright heroic. Follow Deacon Flanigan's extraordinary work at his blog.
Please keep him and the people he serves in your prayers. Most of us can't imagine what he lives with every day. Yet, last week, with the epidemic clearly in mind, he preached about fear—and about faith: 
God, our Father and Jesus knows us better than we know ourselves—knows even our fears and doubts that we can not put into words. Yet He loves us even more than we can possibly imagine through our fears, and through our doubts, and through our sin. He opens His arms and asks us to abandon ourselves into His arms and the arms of his mother. The arms and the shoulders of our Lord and Mary are strong and warm and tender … and they can take ALL (each and every one) of our fears … all of our doubts … and all of our sins … and all of our tears. And through it all we are embraced and filled with Love.