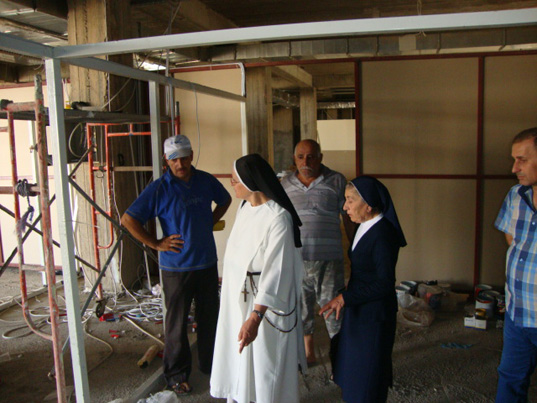 Sister Maria Goretti Hanna, O.P., and Good Shepherd Sister Marie-Claude Naddaf meet with workers creating shelters for refugees in Erbil, Iraq. (photo: CNEWA)
From CNEWA's blog, One-to-One,  a letter from a nun in Iraq paints a picture of what they are confronting:
St. Paul says in the first letter to the Corinthians, "And when I arrive, I will send any whom you approve with letters to take your gift to Jerusalem. If it seems advisable that I should go also, they will accompany me," (1 Cor 16: 3-4).

We feel that we are like the new church of Jerusalem that is going through hardship, but many other churches around the world are offering their helping hand in different ways. We thank [you] for the visit to Ain Kawa. Thank you for your prayers, concerns, and thoughtfulness and for your financial help. Thanks you for accompanying us.

It was a pleasure to meet the three kind delegates: Sister Marie-Claude Naddaf, Michel Constantin and Imad Abou Jaoude. We felt that their visit expressed total solidarity with our church in need. It was not a visit from a humanitarian organization, but [a visit with a] sincere sense of responsibilities and interests toward members of the one church of Christ. They were easy-going, great listeners and very open to others' opinions. They came with one purpose which is to attend the immediate needs with regard to projects needed to help the refugees.

After arriving to our convent in Ain Kawa and having a brief meeting, we accompanied the delegates in their visit to the bishops in the area (Archbishop Boutros Moshe, Archbishop Bashar Warda and Archbishop Emil Nona) to discuss the needs and difficulties that are facing the church in Iraq. They were also able to meet with other religious women congregations in the area: Daughters of Mary Chaldean Sisters, Sacred Heart Sisters, Franciscan Sisters, Ephramite Sisters, and the Little Sisters of Jesus.

In the morning of 4 September, the delegates managed to meet members of the religious people (Syriac priests, Dominican Sisters and brothers, Franciscan Sisters, Ephramite Sisters, Rogazionisti Brothers and Jesus the Redeemer Brothers) who are working daily in the refugee camps. These members were able to express their experiences in the refugee centers, the difficulties they face, the needs of refugees, and their concerns about the future of Christians in Iraq. The delegates acknowledged the fact that the sisters and priests are a sign of hope among the people.

After the meeting, they visited a local refugee center and met with people who are in charge of the emergency clinic that has been placed by the Syric church there to meet people's medical needs. Moreover, they were able to visit and sit with a family that lives in a tent. They were able also to visit Ain Kawa Mall that is being prepared to shelter refugees and also were able to visit Shlama Mall (an unfinished building) and met with many families living in the basement of the building — which is, in fact, a garage.

While at Shlama Mall, they met a family that just arrived from Qaraqosh. The family had been among the 70 hostages in Qaraqosh since the 10th of August (a few days after the exodus from Qaraqosh). The father in the family had been tortured and the mother and the two children (an eight-year-old girl and a boy) had been threatened because they refused to deny their Christian belief and become Muslims. They managed to escape the town when ISIS told them to go back to their homes and stay there.
Read the rest—and consider a gift to support the remarkable work these religious have undertaken.  Visit the CNEWA website to learn how you can help.