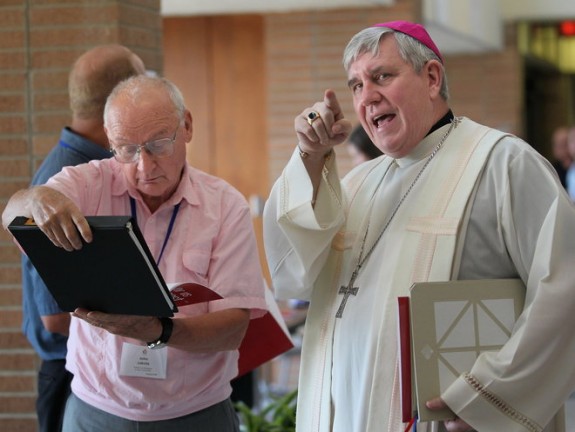 An overview on the results of a recent archdiocesan synod, from The Milwaukee Journal-Sentinel:
Catholic laity — the people in the pews — will play a more prominent role in the life of the church in southeastern Wisconsin in the coming years, according to a declaration issued Sunday by Milwaukee Archbishop Jerome Listecki.

And local bishops will lend their voices to the social justice issues that disproportionately affect minorities in the 10-county archdiocese, such as poverty, immigration and gun violence, the declaration says…

…"It's my hope that the work of the synod will be accepted by everyone … as a way to grow in their faith and share that faith," Listecki said in a telephone interview. "It's my hope that we will all become intentional disciples."

The declaration envisions a local church in which a growing number of Catholics return to weekly Mass and the Eucharist. They would go to confession regularly; enroll their children in Catholic schools; encourage them to become priests, nuns and lay leaders; and reconnect with ancient devotional practices, such as praying the rosary and Eucharistic adoration. The driving force for it all would be local parishes.

…The church would:

■Place a renewed emphasis on Mass and devotions, and develop instructional materials that explain their structure, symbolism and purpose.

■Embrace the church's cultural diversity by encouraging parishes to collaborate across racial and ethnic divides, as well as by studying and addressing the pastoral needs of the archdiocese's Latino, African-American and Asian-Pacific communities.

■Bolster service opportunities that promote Catholic social teaching on care for the poor and marginalized.

■Provide training across the archdiocese — in parishes, schools and homes — on how to teach and form Catholics in their faith.

■Expand pastoral programs and resources for couples and families, "especially troubled marriages, single-parent families, those who've experienced divorce, families with mixed religious traditions, and couples dealing with infertility."

The document does not mention the pastoral care of gay and lesbian couples or their families, which some delegates to the synod had hoped the church would address. Catholic teaching holds that marriage is a sacrament between a man and woman.

As the number of priests declines, the church is expected to place a greater emphasis on lay leaders to take up the administrative tasks of running a parish, so that clergy can focus on their pastoral and sacramental roles. One of the priorities will be to develop leadership roles, especially for women, who are barred by church teaching from serving as priests or deacons.

"This is really a call for Catholics to be active and engaged in their faith," said Randy Nohl, the diocese's director of synod implementation.
Check out the rest.